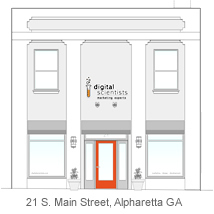 By providing digital marketing expertise at a good value ($100 / hour), we've continued to grow, despite the current economic downturn
Atlanta, Georgia (PRWEB) April 16, 2009
Atlanta-based digital marketing firm Digital Scientists announces its expansion to a second office at 21 Main Street in historic Alpharetta, Georgia. The 20-person firm, with clients including InterfaceFlor, Thomson-Reuters, and Cousins Properties, delivers digital marketing, web design, web and iPhone development services to companies of all sizes. As part of its Alpharetta Office Grand Opening, the firm will donate $25,000 in services to area non-profits ($1,000 gift certificates to the first 25 people in line at Noon on May 13).
"By providing digital marketing expertise at a good value ($100 / hour), we've continued to grow, despite the current economic downturn," said Tom Klein, Chief Scientist at Digital Scientists. "We help companies use new technologies to grow sales, while also applying the analytical, ROI-focused discipline that nearly every company needs."
Located across the street from Alpharetta City Hall, the Digital Scientists office is in one of the oldest buildings in Alpharetta, dating to 1834. "By remodeling an historic building, we're not just choosing the sustainable option, we're also closer to clients, reducing team drive time, and making our office a more enjoyable place to work," adds Bob Klein, Managing Scientist of Digital Scientists (and Tom's identical twin brother). As a part of its commitment to sustainability, the company intends to pursue LEED certification for its Alpharetta location.
If you would like to learn more information about Digital Scientists or the company's planned May 13, 2009 Alpharetta Office Grand Opening and donation to area non-profits, please contact Maggie Hunsucker of Digital Scientists at 404-228-1551.
About Digital Scientists
Digital Scientists is a digital marketing firm that helps clients use new technologies to grow sales, share, and profits. The company was founded in 2007 by Tom Klein, digital marketing strategist and co-author of Enterprise Marketing Management: The New Science of Marketing. Learn more about Digital Scientists at digitalscientists.com.
# # #