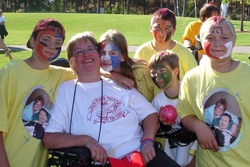 Jenny is a tremendous advocate for The ALS Association who has contributed so much of her time locally and throughout the region to help educate and raise ALS awareness
Calabasas Hills, Calif. (Vocus) April 16, 2009
For the second consecutive year during ALS Awareness Month, The ALS Association's "ALS Across America" campaign will recognize people throughout the United States living with amyotrophic lateral sclerosis for their courageous battle with Lou Gehrig's Disease.
The campaign shines the spotlight on men and women from all walks of life who despite having the progressive, neurodegenerative disease - which on average has a survival rate of two to five years from the time of diagnosis - think of and help others in similar circumstances before themselves. Caregivers of people with ALS also are profiled in the campaign.
A former editor, golf course superintendent, soldier and local caterer, and the list goes on.
People who chose quite different career paths, yet all with something in common: Each is fighting ALS and has not given up on life and is helping others.
"Each of the 30,000 people in this country fighting ALS is a hero and has an inspirational story to tell," said Jane H. Gilbert, president and CEO of The Association. "We are honoring those battling Lou Gehrig's Disease who courageously embody the spirit of living life to the fullest and are making a difference in their community."
The campaign also is reinvigorating those on the frontlines of helping patients and their loved ones.
"The national campaign 'ALS Across America' shares stories of courage and strength and unites ALS communities," said Marilyn Simon-Gersuk, vice president of community services for The Association. "These people inspire and encourage us to be relentless in our search for a cure and in our commitment to help people with ALS and families."
Prior to his diagnosis in 1997, Michael Jack, 42, rode his bicycle to work every day and participated in various physical activities including rollerblading. A resident of Alexandria, Va., Jack was the editor at the American Institute of Architects and an account executive for the public relations firm Porter Novelli. His new passion is helping The Association's DC/MA/VA Chapter help others.
"Michael has always been someone looking to help others," said Dan Iglhaut, 44, his caregiver. "As a volunteer 'buddy' and team leader with the Whitman Walker Clinic, an AIDS service organization, Michael continued to work with his client well after his ALS diagnosis and was honored as volunteer of the year. Michael has embraced The ALS Association not just for his needs but as an outlet to support his fellow patients with information, friendship and laughter."
Steve Franks, 50, may have lost the ability to perform many of his tasks at his former job at Mainlands Golf Course in Pinellas Park, Fla., however, that has not stopped him from spearheading plans to transport 150 mannequins across the state in the "Piece by Piece Awareness Campaign." Each mannequin represents a person who ALS has affected and whose body has literally been stolen "piece by piece."
"The mission Steve is embarking on this year will be his biggest attempt to focus the public's attention on this devastating disease," said Kamden Kuhn, public relations coordinator for The Association's Florida Chapter.
A former soldier and Army Security Agency communications worker, Bill Hamley, 65, gives inspiring speeches to such groups as the Physical Therapists Club at Quinnipiac College. The club members formed a Walk to Defeat ALS™ team.
"Bill is important to the chapter because of who he is and how he relates to others," said Andy Byrne, patient services assistant for The Association's Connecticut Chapter. "At every opportunity he helps to spread awareness both of the disease and of The ALS Association. Bill is a gentle man with a great deal of quiet strength. He has a deep spirituality that is reflected in everything he does."
A local caterer turned ALS-educator and advocate, Jenny Hoff, 50, has made a strong impact on the community by tirelessly working on the telephone and her computer to assist others living with ALS and is a mentor to young people who she encourages to excel in their homework.
"Jenny is a tremendous advocate for The ALS Association who has contributed so much of her time locally and throughout the region to help educate and raise ALS awareness," said Jennifer Hanson, development associate for The Association's Evergreen Chapter. "She has embraced her ALS diagnosis with an incredible positive attitude and has become a tremendous advocate in our region to help teach others about this disease."
Throughout ALS Awareness Month, The Association and its more than 100 affiliates will reach out to communities across the country to educate the public about Lou Gehrig's Disease and urge people to join The Association in the fight to make ALS a disease of the past. National ALS Awareness Month activities include proclamations issued by cities and states.
The Association's National ALS Advocacy Day and Public Policy Conference, which has grown to be the single largest gathering of the ALS community, and is part of ALS Awareness Month, will be held this year on May 10-12 in Washington, D.C.
People with ALS and families from across the country travel to the Nation's Capitol to tell their stories in meetings with nearly every member of Congress, advance The Association's public policy priorities, educate Congress about the true nature of this disease, and let them know why more must be done in the fight for a treatment and cure.
The ALS Association is the only non-profit organization fighting Lou Gehrig's Disease on every front. By leading the way in global research, providing assistance for people with ALS through a nationwide network of chapters, coordinating multidisciplinary care through certified clinical care centers, and fostering government partnerships, The Association builds hope and enhances quality of life while aggressively searching for new treatments and a cure.
For more information about The ALS Association, visit our Web site at http://www.alsa.org
or call (800) 782-4747.
Contact:
The ALS Association
Gary Wosk, Manager, Media Relations
(818) 587-2241
###