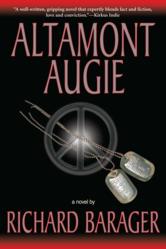 Doctor who prescribes novels to patients writes one of his own.
Los Angeles, CA (Vocus/PRWEB) April 11, 2011
The benefits of reading select works of fiction for those attempting to cope with or treat serious illness are well documented. Formal literature and medicine courses, a category of instruction known as narrative medicine, have been offered as part of U.S. medical schools' curricula for over forty years. The Johns Hopkins University Press even publishes a biannual scholarly journal, Literature and Medicine, to explore "…connections between literary understanding and medical knowledge and practice."
Disease can be understood through the process of scientific method; illness⎯the fully expressed human response to disease, manifested by its emotional, spiritual, financial, and physical aspects⎯requires a different paradigm. Illness is best understood in story form, i.e. the narrative.
Narrative medicine helps future physicians better comprehend what Dr. Barager calls "the personal agony and transcendent majesty of the afflicted."
Barager is a champion of the healing power of literature, and from time to time prescribes specific novels to receptive patients and their families to help them cope with their burden of illness. Dr. Barager has engaged the medical community at large in this endeavor via The Literary Doctor, a blog category devoted to the use of literary fiction to help patients and physicians alike explore the meaning of human illness in a way scientific method cannot.
Richard Barager, MD, FACP, is a nephrologist in private practice in San Diego's North County, and the author of the newly published novel, "Altamont Augie," a startlingly vivid portrayal of one of the most colorful and turbulent periods in recent American history: the 1960s.
For more information about Richard Barager and his book, visit http://www.richardbarager.com
To request a review copy of "Altamont Augie" or to schedule an interview with the author, contact gail(at)topressandbeyond(dot)com, (805) 898-2263
###