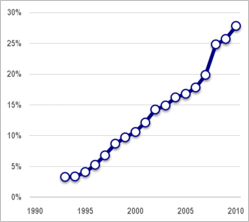 "...building and monitoring a portfolio of ETFs is not the simple task it used to be."
New York, NY (PRWEB) June 22, 2011
ETF Research Center, the online portal for financial advisors and individual investors to access AltaVista's analysis of exchange traded funds, announces significant enhancements to the site including new analytical tools and a major increase in coverage, to assist investors who increasingly favor ETFs over actively managed mutual funds.
New analytical tools include examination of recent trends in important valuation metrics such as price-to-earnings, price-to-sales and price-to-book value multiples, as well as additional constituent breakdown data. The analysis of valuation trends complements the existing "snapshot" valuation metrics—updated each trading day—facilitating comparisons and assisting investors in making more informed judgments.
Expanded coverage includes dozens of recently listed ETFs, as well as AltaVista's first fund of funds, the ALPS Equal Sector Weight ETF (shown here). Beginning in July, the fund of funds will join the nine Select Sector SPDR funds in the monthly ETF Analyzer report, which is available for download free of charge. These additions bring total coverage to more than 660 funds in the U.S. and 47 in Australia.
"Recent data from the Investment Company Institute show that index products such as ETFs continue to supplant traditional actively managed funds, but with all the new choices available building and monitoring a portfolio of ETFs is not the simple task it used to be. These enhancements will help cement AltaVista's reputation as the source of ETF analysis for disciplined, long-term-oriented investors and their advisors," explains Michael Krause, President and founder of AltaVista Research.
ETF Research Center offers three subscription levels to meet investors' needs. Each comes with a one-month risk-free trial. Visit http://www.etfresearchcenter.com for more information.
About AltaVista Research:
AltaVista Research was founded in early 2004 to provide research on the rapidly growing number of Exchange Traded Funds. The firm takes a unique approach to ETF analysis by focusing on the fundamentals of each underlying constituent. Clients include ETF issuers, broker/dealers and buy-side firms. Research is also available to financial advisors and individual investors through its the ETF Research Center.
Contact:
Michael Krause
President
AltaVista Research
P: +1.646.435.0569 | E: michael.krause(at)altavista-research(dot)com
###