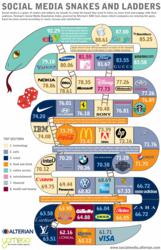 Chicago, IL (Vocus/PRWEB) February 16, 2011
The major players in technology have ranked highest in the first 50 Top Brands in Social Media league table, and in the number one spot is eBay. The online auction and shopping website beat Apple (2nd), Google (3rd), Blackberry (4th) and Amazon (5th) for the pole position.
eBay beat big guns Apple and Google due to the company's long standing engagement with their customers through forums, which were introduced in the late 1990s, corporate blogging, Twitter and Facebook. Quick to adapt to new social media offerings, eBay has adopted Facebook's Open Graph so customers can split the cost of a gift and pay for their share via Paypal. The company also takes a social approach to internal communications, featuring blogs, forums and discussions boards on the company intranet.
In 6th position, Gucci is the highest ranked non-tech company, followed by Ford (7th) and MTV (8th). Other technology brands rounded out the top 10; these are Samsung (9th) and Yahoo (10th).
The social media data and analysis for the index was provided by Alterian's social media analytics tool SM2. According to David Eldridge, CEO of Alterian: "This research shows that brands that rank the highest are those that engage with customers through the right channels, listen to what they are saying, and respond to them transparently and effectively."
"Surprisingly, brand giant Coca-Cola, which is ranked in first position in the Interbrand Best Global Brands ranking system, has come in at 24th. Even though the company has implemented a number of social media tools to engage with customers, both consumers and businesses, it goes to show how important it is to engage with their audience in the right way."
The Social Media Reputation' (SMR) Index has been developed by social media specialist agency, Yomego. Each brand was given a ranking based on its Social Media Reputation (SMR) score which measures the social media 'noise' around a brand (how many people are talking about it) with its popularity (whether what those people are saying is positive or negative). It then adds a 'recency' score, which provides a topical adjustment (so a brand that is being talked about now has a higher recency score than one talked about last six months ago).
Human analysis is then applied to each score to ensure it is accurate (to take into account sentiment such as sarcasm or slang that could be wrongly interpreted by an automated system) and to analyze relative influence of different channels. The brand is then given an overall SMR score out of 100.
A video on "The engine behind the Top 50 Brands" can be viewed here: http://alterian.yourbusinesschannel.com/m/Jq1Cdz
About Alterian
Alterian (LSE: ALN) enables organizations to create relevant, effective and engaging experiences with their customers and prospects through social, digital, and traditional marketing channels. Alterian's Customer Engagement solutions are focused in four main areas: Social Media, Web Content Management, Email, and Campaign Management & Analytics.
Alterian technology is utilized either to address a specific marketing challenge or as part of an integrated marketing platform, with analytics and customer engagement with the individual at the heart of everything. Working alongside a rich ecosystem of partners, Alterian delivers its software as a service or on premise. For more information about Alterian visit http://www.alterian.com or the Alterian blog at http://www.engagingtimes.com.
###