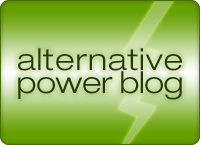 Being a part of his interactive website is in keeping with our company's mindset of being progressive on all fronts
Saratoga Springs, NY (PRWEB) April 14, 2009
Atlantic Energy Solutions (OTC: AESO.PK) is pleased to announce the sponsorship of http://www.alternativepowerblog.com, a socially interactive site for information on the alternative energy industry. The interactive blog contains articles on alternative energy news, solar energy news and wind energy news along with videos, podcasts and an email news letter.
"Being a part of his interactive website is in keeping with our company's mindset of being progressive on all fronts," states CEO Tim Brock. "This vehicle allows us to continue to develop awareness of our industry." By becoming members of the blog, members will have access to current industry information on a continuous basis.
Alternative power blog.com can be found at http://www.alternativepowerblog.com, YouTube videos at http://www.youtube.com/altpowerblog and Twitter posts at twitter.com/altpowerblog.
About Atlantic Energy Solutions, Inc.:
Atlantic Energy Solutions is a globally accredited Energy Efficiency and Resource Company and member of NAESCO (http://www.Naesco.org) that identifies, implements, and finances energy efficiency projects designed to improve overall efficiency of energy, water usage and renewable resources, reducing dependency on foreign oil and diminishing our carbon footprint. Headquartered in Saratoga Springs, NY and with a satellite office in Fairfield, NJ, Atlantic Energy Solutions assesses the energy demands and usages of municipal, corporate and industrial complexes to improve conservation and apply measures to bolster savings at the consumer level.
This press release contains statements, which may constitute "forward-looking statements" within the meaning of the Securities Act of 1933 and the Securities Exchange Act of 1934, as amended by the Private Securities Litigation Reform Act of 1995. Those statements include statements regarding the intent, belief or current expectations of Atlantic Energy Solutions Inc., and members of its management as well as the assumptions on which such statements are based. Prospective investors are cautioned that any such forward-looking statements are not guarantees of future performance and involve risks and uncertainties, and that actual results may differ materially from those contemplated by such forward-looking statements. Important factors currently known to management that could cause actual results to differ materially from those in forward-statements include, but are not limited to, fluctuation of operating results, the ability to compete successfully and the ability to complete before-mentioned transactions. The company undertakes no obligation to update or revise any forward-looking statements.
Contact:
Rich Inza
ir (at) atlanticenergy (dot) net
1-866-788-1600
http://www.atlanticenergy.net
http://www.alternativepowerblog.com
###