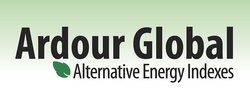 New York, NY (PRWEB) June 9, 2010
The Ardour Global Alternative Energy Index℠ (TICKER: AGIGL) will add four new components, effective 6:00 PM (EDT) Sunday, June 20, 2010. Four stocks will be deleted from the index, maintaining the number of index components at 134. The changes result from the quarterly rebalancing of the index.
The Ardour Global Index℠ (Extra Liquid) (TICKER: AGIXL), which contains a fixed number of 30 stocks, had one addition against one deletion. China High Speed Transmission Equipment Group Co. Ltd (TICKER: 658 HK) will replace Nordex AG (TICKER: NDX1 GR).
Additions to AGIGL are: GP Batteries International Ltd (TICKER: GP SP); Fersa Energias Renovables (TICKER: FRS SM); Electrovaya (TICKER: EFL CN); Powertech Industrial Co. Ltd (TICKER: 3296 TT).
Deletions to AGIGL are: Energy Developments Ltd (TICKER: ENE AU); PV Crystalox Solar (TICKER: PVCS LN); Quantum Fuel Systems Technologies Worldwide Inc. (TICKER: QTWW US); Raser Technologies Inc. (TICKER: RZ US).
A complete list of constituents and weights will be posted on the AGI family of alternative energy indexes website (http://ardour.snetglobalindexes.com/about_the_indexes.php ) as of the effective date.
The Ardour Global Alternative Energy Index℠ is a capitalization-weighted, float-adjusted index of the most prominent alternative energy stocks in the world. To be included in the AGIGL index, companies must be pure-play and the stocks must pass multiple screens, including for capitalization, float, exchange listing, share price and turnover.
Detailed index information, including constituent data, rules and price information, is available at http://www.ardourglobalindexes.com . Data is also available through most vendors of financial data.
###