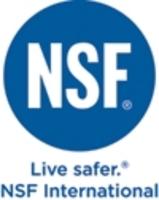 We welcome this certification program by a leader in standards development and testing that offers stakeholders more options for quality.
Ann Arbor, Mich. (Vocus) January 29, 2009
NSF International, a public health and safety organization, today announced that it has certified the first geothermal pipes to Canadian Standards Association's (CSA) standard C448: Design and Installation of Earth Energy Systems for Commercial and Institutional Buildings. NSF is the only organization that certifies polyethylene (PE) piping for geothermal end use.
CSA C448 is North America's only government-recognized design and installation standard for geothermal systems, systems that use the earth as a heat source and heat sink. They provide heating or cooling by moving heat, rather than by creating heat like a furnace. While conventional heating systems rely on outdoor temperatures that often vary, underground temperatures remain relatively constant all year round, producing the desired heating and cooling temperature year round.
NSF's certification program was developed to incorporate all of the critical aspects of geothermal piping, including performance, physical, health effects and quality control requirements. In order to achieve NSF Certification, both Trinus Pipes & Tubes Ltd. and Vanguard Pipe & Fittings Ltd. had to fulfill the requirements of NSF/ANSI Standard 14: Plastic Piping System Components and Related Materials and CSA B137.1: Polyethylene (PE) Pipe, Tubing, and Fittings for Cold Water Pressure Services in addition to the requirements of CSA C448. Both companies also underwent a rigorous facility audit that verified the following:

Formulation and manufacturing processes
Use of authorized raw materials
Quality control requirements
Sampling of product for monitoring testing
Product marking
Product complies with standards and NSF policies
For meeting the requirements, Trinus and Vanguard will bear the CSA-C448, CSA-B137.1 mark and the cNSF-geothermal mark on its pipes. These companies are also listed on the NSF Web site.
Third-party certification for geothermal piping systems provides regulators and users assurance that products are independently certified to meet requirements for geothermal end use. To maintain NSF Certification and demonstrate ongoing compliance, Trinus and Vanguard will be required to pass three unannounced audits annually.
"Standards are the foundation of North America's first and most comprehensive quality program - the Global Quality GeoExchange™ Program," said Canadian GeoExchange Coalition Vice President Ted Kantrowitz. "We welcome this certification program by a leader in standards development and testing that offers stakeholders more options for quality."
According to Jeremy Brown, NSF Code and Regulatory Manager, "Third-party certification is essential because it helps increase confidence and product acceptance, while helping to ensure product compliance with applicable requirements. Going forward, we will continue to play an active role in building on the quality requirements of earth energy technologies."
Additional Background
Certification to NSF/ANSI Standard 14 incorporates additional quality control requirements for polyethylene (PE) pipes and establishes the minimum physical, performance and health effects requirements for the plastic piping components. The standard includes product testing, long-term strength and quality control requirements that are the key to ensuring product performance in the field.
About NSF International: NSF International, an independent, not-for-profit organization, helps protect you by certifying products and writing standards for food, water and consumer goods (http://www.nsf.org). Founded in 1944, NSF is committed to protecting public health and safety worldwide. NSF is a World Health Organization Collaborating Centre for Food and Water Safety and Indoor Environment. Additional services include safety audits for the food and water industries, management systems registrations delivered through NSF International Strategic Registrations, organic certification provided by Quality Assurance International and education through the NSF Center for Public Health Education.
CONTACT: Greta Houlahan
Phone: (734) 913-5723
# # #