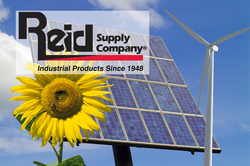 Right now, we are supplying industrial products to those companies who are building machines that are leading the world in our energy revolution
Muskegon, Michigan (PRWEB) March 4, 2009
Reid Supply Company, a Michigan-based global distributor of industrial parts, components and supplies, sees the road ahead as one lit with the power of the sun, and the sea, and the wind, and the land.
"Right now, we are supplying industrial products to those companies who are building machines that are leading the world in our energy revolution," says John Carrier, President of Reid Supply Company. "We know what these manufacturers need to make their vision possible, because we've been partnering with them for years on other projects. These folks are the pioneers of eco-friendly energy and we are ready to help them grow."
Ann Arbor based Michigan Public Radio (MPR) recently reported on an alternative energy workshop for manufacturers interested in learning how to grow their business and diversify their customer base by focusing on the manufacturing needs of the growing alternative energy market. The Macomb County event, located in Southeast Michigan, was so popular that the county is planning another. Steve Cassin directs the county's planning and economic development department. According to MPR, Cassin says manufacturers who make things like cylinders, pistons or generators for the automotive industry already have the expertise to make products for a new energy market.
Carrier says Reid serves thousands of manufacturers who have been serving other industries, like the automotive industry, and these manufacturers are well suited to fill the new needs of alternative energy like the production of fuel cells, solar, biomass, electronics, geothermal and wind energy here in the US and around the world.
Reid is on the cutting edge of industrial parts distribution for these new industries, even to the extent of offering free Computer Aided Design or CAD images on more than 90% of everything on their web site, ReidSupply.com.
"We have over 40,000 free CAD images that anyone can download," says Tom Gilbert, Database Services Manager for Reid Supply. "This is one of the biggest, if not the biggest, free CAD database in the industrial supply industry. It would be very beneficial for an engineer or technician in an energy-related industry to come to ReidSupply.com and simply download the CAD part they need for their engineering designs."
The company's e-commerce web site, ReidSupply.com, features a knowledge base for engineers, machinists, hobbyists and scholars. Their repository of information features the free CAD library, a large collection of reference books, a free "Ask the Expert" feature, a free enewsletter, free resource guides, special requests and more.
Reid Supply Company, which started selling industrial supplies in 1948, serves virtually every industry, including emerging alternative power producers, with parts ranging from clamps, to power transmissions, to structural systems, and everything in between. Greg Palmer, Reid Supply Company's Director of Marketing, says that their 12 category merchandising system, implemented on both the company catalog and web site, is beneficial for manufacturer's product sourcing needs.
"Our exclusive color-coded category classification is great for folks who want to locate specific items with a minimum of effort," says Palmer. "We have organized all of our products into these 12 areas and color-coded them for easy reference and access."
Reid's product offering features 12 color-coded categories as follows:

Manual Controls: Knobs, Handles, Hand Wheels
Clamps and Workholding
Tooling Components
Fasteners and Hardware
Leveling Devices and Vibration Control
Material Handling
Bearings and Power Transmission
Metalworking
Maintenance, Repair and Operations (MRO)
Pneumatics and Hydraulics
Structural Systems
Safety
After investing in new data management, higher internet speed connections, and a new improved shopping cart, the company says that its web site offers customers a streamlined and efficient way to order parts and then maintain records for all of their purchases.
"We are constantly striving to give the Customer exactly what they want," says Palmer. "That is why our team is always gearing up to help Customers by making sure that our organic site keeps up with the newest technology and continues to grow with their needs."
"Like our Customers, we are always looking toward the future," says Carrier. "As these emerging energy sources are developed, we will be right there with our Customers who are creating the changes our world needs." He continues, "Our rallying cry, 'while others may be bigger, nobody will serve the Customer better' is really all about us staying at the forefront of serving those who will lead our world into a better, more prosperous future."
###