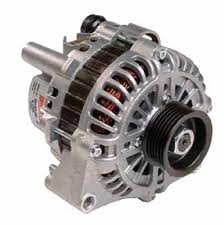 Proper maintenance is recommended by automakers and mechanics to keep these components working smoothly during vehicle ownership.
Seattle, Washington (PRWEB) April 02, 2013
Replacement automotive parts often fluctuate in price due to material costs, distribution differences and supply and demand. Obtaining accurate pricing at the time of replacement can be one issue for car owners, mechanics and others purchasing auto parts online. The AutoProsUSA.com company is now providing its alternator cost database with regular updates to help buyers price the replacement cost for alternators from multiple retailers in one search at http://autoprosusa.com/finding-an-alternator-for-your-vehicle.
The ignition systems for modern vehicles have been upgraded over the past two decades by automakers. Starters, batteries and alternators help to make up the complete ignition system in vehicles to provide reliable startup. Proper maintenance is recommended by automakers and mechanics to keep these components working smoothly during vehicle ownership. Pricing replacement alternators for used vehicles is now expected to be easier with the updated database now published online.
Several upgrades have been made this year to the AutoProsUSA.com website. A recent addition of airbags, carburetors and transfer case shops online are helping to expand the inventory carried by this company. The additions of these new parts and components are now providing more resources for buyers online compared to the lack of inventory carried by some offline retailers in some parts of the country. These new additions have been paired exclusively with introductory pricing to help lower costs for replacements.
To go along with the new additions, a new price quotation system has been developed and is now in use at the company website. This new interface offers immediate pricing for multiple distributors. The parts that are included in the company database are purchased from multiple distributors to help provide the lowest price. This new quotation system provides quotes from multiple distribution companies currently supplying the Auto Pros company. This new database can be used 365 days a year online.
About AutoProsUSA.com
The AutoProsUSA.com company provides immediate access to thousands of hard to locate auto parts online. This company employs a team of automotive experts currently researching the best pricing and inventory supplies for customers. The daily work completed by this company has resulted in a larger database of parts as well as a larger network of customers. The AutoProsUSA.com company supplies its accurate pricing from its updated database to ensure accuracy for those researching parts prices before making a purchasing decision. This company attaches the warranty coverage provided with each part sold as an incentive to customers.