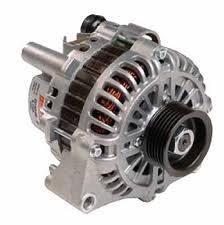 The Auto Pros USA company is now helping to solve alternator problems due to its new auto parts resource online.
Chicago, Illinois (PRWEB) April 06, 2013
Automakers place emphasis on engines, transmissions and fuel efficiency when building vehicles. The electrical system that has been developed for modern automobiles relies on specific components that could fail without warning. The Auto Pros USA company is now helping to solve alternator problems due to its new auto parts resource online. This new website provides discounted auto parts that help reduce replacement costs at http://autoprosusa.com/finding-an-alternator-for-your-vehicle.
The amount of electrical current required to power modern automobiles is controlled in part by alternators. The consistent charge that these components provide to a battery helps to provide electrical power to devices, headlights and other essentials.
Because these components can fail, both new and used vehicles can be susceptible to a sudden breakdown. The creation of the new resource online is expected to give more vehicle owners and mechanics a way to find replacement parts for a discounted price online.
The AutoProsUSA.com company has recently branched off into selling hard to locate accessories for automobiles. Apart from the most essential parts, secondary parts like airbags, crankshafts and other parts are now provided in the company inventory. These parts are traditionally sold through salvage dealers and are now able to be purchased by any person online. The discount pricing created by this company is now part of the new cost measures created online.
The new ways to find pricing online at this company is helping more buyers to use the established company resources. The company quotation system is able to provide multiple types of pricing to help buyers find a comfortable price. The lower than MSRP structure used is offering better resources for price quotes compared to some retailers unable or unwilling to offer discounted pricing for auto parts.
About AutoProsUSA.com
The AutoProsUSA.com company is a leading provider of auto parts online. This company buys and sells parts in larger quantities to help provide the best pricing to consumers. The larger than standard inventory carried by this company is one difference that consumers find when browsing the company inventory. The AutoProsUSA.com company is staffed by industry specialists able to provide parts services for foreign and domestic vehicles for North American buyers. The warranty protection and expedited shipment services are two ways used by this company to help grow revenues annually.