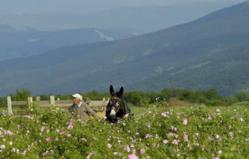 Organic rose oil is considered among the purest, most potent and rare essential oils in the world
The Rose Valley, Bulgaria and Chicago, USA (PRWEB) June 30, 2011
Alteya Organics, a member of Alteya Group and a leading Bulgarian rose grower, essential oil distiller, and USDA Organic skin care manufacturer, announced this weekend the successful completion of the 2011 rose harvesting campaign.
"The rose harvest was great this year. The mix of days of sunshine and rain during the blossoming period was extremely favorable, and this reflected in the excellent aroma and quality of the rose oil and rose water we distilled this season. The rose oil this year has unique and very rich, multilayered floral fragrance with slightly spicy notes" said George Kolev, Alteya's General Manager of Operations. "The actual rose blossom output was lower compared to last season, but our main focus is always on quality, not quantity so we are very proud of the outcome."
The complexity of extracting essential oil from the rose plant causes it to be a very rare, highly sought-after and expensive substance. Mr. Kolev estimates that on average, it took over 4,000 pounds of rose blossoms this year to produce just 1 pound of Bulgarian Rose Oil (rose otto). This is slightly higher than the average and coupled with increased customer demand will most likely push the price of the rose otto by about 5-10% above last year's levels. Additionally, the collective Bulgarian Rose Otto output from all producers in the Rose Valley was initially expected to exceed 3,000 lbs this year but actual production was about 20% lower than those estimates. This was mainly due to lower rose blossom output caused by cooler spring weather as well as weak economy, which lead to many small rose growers abandoning their crops due to lack of financing.
There are approximately 36,000 dka of rose fields in Bulgaria, employing over 37,000 workers during the peak of harvesting. True to its mission to operate in an Earth-friendly and socially-responsible manner, Alteya again hired over 700 Gypsies, Pomaks and other ethnic minorities from the local village communities this harvest season. "Over 80% of our rose-pickers are the same year-over- year. We really consider them part of our extended family in the region. We celebrate the magic of the Rose together and its always thrilling to learn more about the Gypsy customs, festivities and vibrant culture" said Kaloian Stoev, Head of Organic Production and Sales of Alteya Organics.
Due to growing customer demand and Alteya's own Organic Skin Care production needs, key focus for the company this season continued to be the distillation of USDA Organic rose oil and water, regardless of the difficulties associated with organic agriculture. The expenses of growing roses organically are almost twice higher than those incurred for conventional roses, while organically grown rose plants produce approximately 40% less blossoms. The extra efforts are completely worth it - organic rose oil is considered among the purest, most potent and rare essential oils in the world. Alteya recently introduced its USDA Organic Bio-Damascena ® Skin Care line, which is exclusively based on Organic Bulgarian Rose Oil and consists of a anti-ageing face creams, lotions, moisturizers, hair treatments and lip balms. They are sure to carry the magic of the Queen of Flowers, the vibrant festivities, old traditions and mesmerizing images well beyond the harvesting season.
About Alteya Organics:
Alteya Organics is a young family-owned company which has been growing the oil-yielding Damascena Rose in the Bulgarian Rose Valley since 1999. Today, Alteya is one of the fastest-growing Bulgarian Rose Oil distillers and exporters with customers in Europe, Asia and North America and has an extensive track-record of social responsibility activities and community involvement. Since early 2007, Alteya has been working on developing Certified Organic Skin Care products that embody the marriage of centuries-old tradition with modern research and technologies. Alteya was recently recognized by the Organic Consumer Association as one of the top USDA Organic cosmetics line. The company operates offices in Bulgaria and the United States, and works with partners and distributors in over 10 other countries. For more information, go to http://www.alteya.com
###