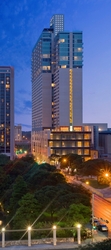 Visitors to Alteza are blown away by the floor-to-ceiling windows and balconies with unequaled views of our downtown and surrounding countryside.
San Antonio, TX (Vocus) February 27, 2010
The developers of Alteza—the luxury high-rise residences nestled in the heart of downtown San Antonio on the banks of its picturesque River Walk—announce its two furnished model units will be available for viewing and touring the first week of March, 2010.
Alteza features 147 luxury condominiums situated atop the 24-story Grand Hyatt San Antonio —from plush one-bedroom homes to jaw-dropping penthouse suites—all with amenities suited for even the most discriminating of residents. The model units include a one bedroom/one bath (738 SF) and a two bedroom/two bath (approximately 1,500 SF).
The interior of the two model units and the owners' private lobby were designed by Phillip Crane, owner of London-based PureModern design firm. Crane is flying in from London to oversee the design of the spaces in early March.
"We are keeping the spaces more contemporary—given the urban lifestyle of the owners—but didn't want to go too 'cutting edge,' so we selected sophisticated rich browns and offset a lot of the warmth of the browns with bright white furniture and details," says Crane. "Every once in a while you'll see the hint of bright modern colors from touches of red, and unusual color combinations like eggplant and grey or beige. Additionally, we introduced a look and feel to some units that was unexpected, such as graphite-colored wood floors—striking and modern, yet very warm with the flooring still being wood as people would expect."
Because Alteza is the only San Antonio condominium project that is connected with a hotel, the only project that is physically located directly on the San Antonio River Walk, and the highest altitude residences in San Antonio, the Alteza team is not surprised by the intense interest in the homes in the last several months—especially when coupled with the facts that San Antonio has exceptional resale prospects for condominiums because it is not overbuilt. In fact, the city is ranked No. 2 of "America's Fastest-Recovering Cities" by Forbes magazine in its Nov. 2009 issue.
Alteza's sales team will be led by well-known Phyllis Browning realtors Treedy Chapa and Darinda Fuller.
"We are extremely excited to have a prominent real estate company such as Phyllis Browning and her extraordinary sales team to serve as our agents," says Jim Jaco, president and COO of Texas Riverwalk Residences, developers of Alteza. "Phyllis Browning is the preferred name in residential real estate in all of south Texas and Mexico."
The Phyllis Browning Company opened in 1989 with five agents and a simple goal: to be the best real estate company in Texas. Now an affiliate of Christie's Great Estates, Luxury Portfolio and National and International Property Search, the Phyllis Browning Company is well established as the fastest growing, most highly respected residential real estate company in San Antonio and south Texas.
"Visitors to Alteza are blown away by the floor-to-ceiling windows and balconies with unequaled views of our downtown and surrounding countryside," says Jaco. "They know living in our homes really is 'life from the top' when they are nearly level with the 750-foot-tall Tower of Americas downtown landmark!"
"We expect the first owners will move in their new homes by this summer, and they can't wait to begin enjoying the safety and 'lock and leave' comfort that comes with a four-star premier hotel and its amenities at their fingertips," adds Jaco. "We knew we hit the right nerve when a young doctor who has lived all over the U.S. exclaimed 'now, this is really urban cool!' when touring one model."
Located at 500 E. Market Street at Bowie, Alteza living offers:
Floor Plans

22 standard floor plans and six unique two-story penthouse plans
1, 2, 3 and 4 bedroom plans
Homes ranging from 750 to 6,000-plus square feet
Prices ranging from $300,000 to $3 million
Physical Amenities

Private, secure entrances, elevators and parking for controlled floor access
Approximate 10-ft. ceiling heights in living areas (12-ft. ceilings in penthouse living areas) with floor-to-ceiling windows and balcony or terrace
Exclusive "owner's only" rooftop pool oasis on the 32nd floor
Variety of hardwood flooring
Gourmet stainless steel kitchen appliances by Bosch and Sub-Zero
Fixtures by Kohler and Elkay
Natural stone and granite slab countertops
Services

24-hour security
Housekeeping/dry cleaning/valet/maid services
Private, street-level condominium lobby with 24-hour doorman/concierge service
Pets allowed
Grand Hyatt Hotel Benefits

Membership privileges to state-of-the-art 5,000 square-foot fitness center
Ala carte 24-hour room service and catering services
Restaurants, coffee cafe and two bars
Discount hotel rooms for Alteza owners
"Alteza residents have easy access to downtown sporting events, restaurants, theatres, shopping and the famous River Walk on foot, via taxi, trolley or river taxi, yet Alteza is just a quick 12-minute drive to our International Airport or the Medical Center," adds Chapa. "And for those who love history, Alteza is walking distance to the city's myriad of historic landmarks, including the historic King William neighborhood, La Villita, HemisFair Park…and the famous Alamo."
The sales team reports most queries are coming from Mexican nationals, military and BRAC personnel, retirees and professionals from San Antonio, and individuals wanting a second home in San Antonio.
More information on Alteza can be found at http://www.thealteza.com and from the sales team at (210) 212-8400 or tchapa(at)phyllisbrowning(dot)com. The Alteza sales office is currently located in the Alteza Condominium Lobby at the Grand Hyatt Hotel, Monday – Friday from 9 a.m. to 4 p.m.; Saturday 10 a.m. to 4 p.m.; Sunday 1 – 4 p.m.; or by appointment.
# # #