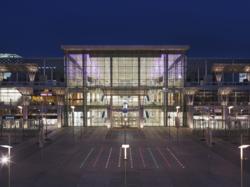 It is important to recognize the significant contributions of the current generation of partners.
Los Angeles, CA (PRWEB) April 04, 2012
Altoon + Porter Architects has adopted a new firm name, Altoon Partners, to reflect the current structure of the partnership. "With the retirement of co-founder Jim Porter from the firm, it is important to recognize the significant contributions of the current generation of partners," said Founding Design Partner Ronald A. Altoon, FAIA. "We have had a leadership transition plan in place for a number of years, with Gary K. Dempster, FAIA, William J. Sebring, AIA and James C. Auld, AIA progressively assuming greater responsibility for both the strategic vision and day-to-day management of the practice. It is gratifying to acknowledge their leadership with this change."
The 27-year old global practice, with offices in Los Angeles, Amsterdam, and Shanghai, has an international reputation and clientele for their award-winning retail, residential and mixed-use developments. The firm has completed hundreds of master plans, concept studies, or construction projects in 43 countries valued at over US$11 Billion, building long-term relationships with clients and collaborators.
In addition to the partners, an important member of the international leadership team is Associate Partner Richard Kuei, who has handled the day-to-day management of all projects in China since the office was established nearly five years ago. Last year, the firm had ten projects in construction in the region with a total floor area of over 2,000,000 square meters including mixed-use and transit oriented development projects.
The partners are actively engaged in their local and professional communities, stepping up to leadership positions in organizations and professional societies including: The American Institute of Architects (AIA), the International Council of Shopping Centers (ICSC), the Urban Land Institute (ULI) and in higher education and the community.
Among the firm's current and recent domestic projects are Shops at Summerlin, Summerlin, NV; The Shops at Bay Plaza, The Bronx; and The Collection at RiverPark, Oxnard, CA. In ten cities in China including Nanjing, Wuhan, Guangzhou, and Qingdao, the firm has over 21,500,000 square feet of mixed-use projects under construction. European developments include GoodZone, Moscow; Nieuw Hoog Catharjine, Utrecht, The Netherlands; and Tarsu, in Tarsus, Turkey.
Contact:
Leslie Young
Altoon Partners
213.225.1990
lyoung(at)altoonporter(dot)com
Nancy Egan
New Voodou
310.943.7194
egan(at)newvoodou(dot)com