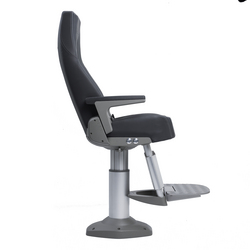 It is simply an attractive and functional chair that takes into account an intensive maritime work environment, while providing maximum comfort and durability for 24/7 usage
(Vocus) March 9, 2009
Kristiansand, Norway March 9, 2009-- Newly established Alu Design & Services AS of Norway has announced the launch of AluTech 500, a new ergonomically pilot chair that blends technology, comfort and style into a unique tailor-made, ship-bridge work station. The company anticipates pilot chair sales to exceed 500 units within the next 12 months.
According to Einar Ulrichsen, CEO of Alu Design & Services AS, the chair created a sensation in the Scandinavian shipping markets and will be marketed globally within six months time.
"Functionality, design and price are the leading success factors. Although the company was launched 12 months ago and the product range only this year, we have received several orders from leading offshore, ferry and merchant marine operators and shipyards. We are witnessing a growing interest by international ship owners and planning international expansion."
Recent orders include owners like Høegh Autoliners, Havila Shipping, Farstad, DOF, Trico Supply, Neptun Offshore, Tide Sjø Fiskerstrand Verft and yards /builders like STX Europe, Havyard, Maritime Montering, Mare Safety, R & M Interiors, Norac and Vinashin to mention a few.
The idea behind the AluTech 500 design is simplicity, appearance and usability.
"A design task chair, AluTech provides advanced ergonomic performance, intuitive functionality, and superior comfort in a simple, attractive design. It is no doubt, the best pilot chair in the marine market today," says Ulrichsen.
The AluTech pilot chair delivers a smooth, balanced support throughout the recline, upright and forward tasking positions and responds to each user's sitting and work style and back support needs.
"It is simply an attractive and functional chair that takes into account an intensive maritime work environment, while providing maximum comfort and durability for 24/7 usage," says Frank Robertsen, marketing director, Alu Design and Services.
"This new seat has received a tremendously positive reception in the market in a very short time. From the reactions of many ship owners and operators, I predict a very satisfying response," says Robertsen.
With specifications on the table, Alu Design & Services delivers units within a 14-day work period.
"All pilot chairs are assembled at our location. We have an abundance of elements and parts at our factory and our in-house technical and assembly teams produce orders within extremely short periods. This is Norwegian technology and service at its best," says Robertsen.
For further information contact:
Frank Robertsen
Marketing Director,
Alu Design & Services AS
cell: +47 907 59 295
http://www.alu-design.no
###