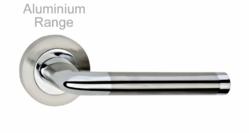 (PRWEB UK) 3 May 2012
Door Handles Ltd who is one of the online market leaders for handles for doors have released a new aluminium range to their product list. The company who are the exclusive stockists of Dorspec for the UK and Ireland have decided to respond to increasing demand in this style of metal by introducing a new product called Tempest.
The new Tempest round rose door handle has both a nickel brushed and chrome plated finish giving it a very modern and decadent style. The accessories it comes with are matching escutcheons and WC turns are available. It is complete with fixing screws and a 7.9mm spindle and is suitable for internal domestic and light commercial use.
Aluminium door handles are very light due to the properties of the metal. The metal also generates a protective oxide coating and is highly corrosion resistant, which means that works well for people wishing to fit a handle in an outdoor environment as there is a reduced effect from weather damage giving it a longer lifespan.
Another interesting point is that aluminium is 100 percent recyclable and in this day and age where people are becoming increasing more aware of their carbon footprint they will have an added incentive to purchase this product knowing that if they ever wish to make a change of door handles in the future they do not have to simply throw them away but can recycle them instead.
As well as aluminium Door Handles LTD supplier many other metals such as stainless steel, polished chrome, brass and brushed nickel designs.
You can visit the website at http://www.doorhandlesltd.co.uk