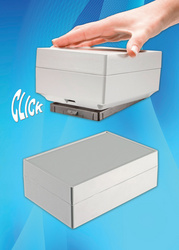 Specifying aluCLIC from day one makes upgrading systems dramatically easier – it represents a significant step forward in aluminium enclosures.
(PRWeb UK) November 3, 2010
Electronics design engineers can complete complex projects much faster thanks to snap-on aluCLIC aluminium enclosures from ROLEC.
Specifying snap-on aluCLIC enclosures enables engineers to install and replace electronics in an instant – all it takes is a simple click.
ROLEC's aluCLIC IP67 enclosures replace the traditional wall mounting screws with a unique snap-on mounting device.
Pre-assembled systems can be mounted in situ without the need to open the enclosure, enabling complex electronics to be replaced and upgraded with a click.
At the heart of each enclosure is ROLEC's unique aluCLIC mounting device. This features three spring-loaded catches which engage into apertures on the underside of the base section.
Each of the aluCLIC electronic enclosures snaps on to a mounting device and can be removed simply by inserting a flat screwdriver.
It also means that all of the internal space of the enclosures can be used to house the electronic components because – thanks to the clever mounting device – no space-hungry fixing channels are needed.
ROLEC's aluCLIC electrical enclosures are manufactured in high quality die cast aluminium and painted in light grey RAL 7035. The mounting device is manufactured in black POM plastic.
Three standard sizes are offered for aluCLIC: 130mm x 90mm x 70mm, 160mm x 110mm x 70mm and 200mm x 130mm x 70mm.
There are no visible fixing screws on the case because the lid and base section are assembled with screws concealed on the underside.
Lids are fully recessed, enabling the entire front surface to be used for the mounting of a membrane keypad or product label.
M5 screw bosses are provided in the lid and base for the mounting of PCBs, electronic assemblies, terminals etc. Prices for the enclosures start at £48.
ROLEC's aluCLIC die cast enclosures are sealed to the IP67 protection class and this can be increased to IP69K on demand.
ROLEC also offers a full custom enclosures service on aluCLIC with CNC milling, drilling, silk-screen printing, assembly of cable glands and terminals plus much more, providing a fully finished housing ready for fitting the components.
Features of the aluCLIC aluminium enclosures:

modern electronic enclosures designed for fast installation and replacement
spring-loaded latch secures the case with a click
mounting device is located on the underside of the enclosure
no visible fixings – lids screws are hidden on the underside of the base
recessed lids for the locating of membrane keypads or product labels
install anywhere – walls, bulkheads, machines
internal screw pillars for mounting PCBs and assemblies
compatible cable glands
options include a mounting plate, EMC shielding, IP69K gasket, corrosion proof coating.
ROLEC aluminium enclosures are marketed in the UK by OKW Enclosures Ltd.
OKW Sales and Marketing Director Robert Cox said: "Design engineers are frequently asked to develop electronics equipment that can be installed or replaced in an instant.
"Specifying aluCLIC from day one makes upgrading systems dramatically easier – it represents a significant step forward in aluminium enclosures."
Easy to install aluCLIC enclosures are part of ROLEC's wide range of industrial enclosures.
ROLEC also manufactures an extensive range of glass reinforced polyester enclosures.
These hardwearing chemical-resistant housings are manufactured in huge selection of industry standard sizes and are available with hinged lids, transparent windows, mounting plates and many other standard options.
The ROLEC range also includes modern IP66 rated ABS enclosures for outdoor and indoor electronics equipment.
For more information on aluCLIC aluminium enclosures, contact or contact Sales and Marketing Director Robert Cox, +44 (0)1489 583858.
Ends
Notes For Editors
OKW ENCLOSURES LTD
15 Brunel Way
Segensworth East
Fareham
PO15 5TX
Tel: +44 (0)1489 583858
Fax: +44 (0)1489 583836
ROLEC has more than 30 years of experience in the design and manufacture of industrial enclosures for electronics and electrical equipment.
Its extensive range of innovative enclosures is brought to you in the UK by partner OKW Enclosures Ltd.
ROLEC is a medium-sized family-owned enterprise which manufactures exclusively at its factory in Rinteln, northern Germany.
The company has many years of expertise in the development and manufacture of high quality enclosures and accessories.
ROLEC keeps all catalogued products in stock and uses ultra-modern machines to modify enclosures to individual requirements.
ROLEC supplies fully finished enclosures without delay at competitive prices and "just in time".
###