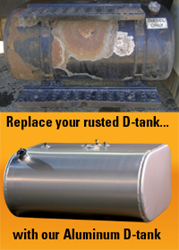 Cleveland, OH (PRWEB) November 02, 2010
Cleveland Tank has announced new, D.O.T. certified aluminum D tanks that can be shipped from stock within 48 hours. These aluminum D tanks tanks offer significant weight savings and corrosion resistance over steel tanks. The weight savings generate fuel economy, and the improved corrosion resistance of an aluminum tank reduces maintenance. Many customers are using the aluminum tanks as replacements to the original steel tanks provided by major original equipment manufacturers.
According to Rich Ferris, General Manager of Cleveland Tank & Supply, Inc., "We are excited about the opportunity to provide the value of an aluminum D tank at extremely competitive prices for the replacement of rusting steel D tanks. Customer experiences indicated original D tank designs in steel were prone to leaking and excessive rust thereby causing premature failures. Our aluminum D tanks will eliminate this problem."
The new D tanks are D.O.T. certified, and 50-gallon capacity models are stocked, with 60- and 70-gallon models available on a made to order basis. Cleveland Tank also provides the mounting kits for these and other tanks.
Cleveland Tank can also design a certified tank to the user's specifications to provide the greatest fuel payload within the available tank space. Fill neck, anti-siphon, sight gauges, drain check valves, sumps, draw tube(s), fuel return, vents and drain fittings can all be oriented to deliver the best solution for the customer's fuel delivery needs.
About Cleveland Tank
Cleveland Tank & Supply, Inc. is located in Cleveland, Ohio. The company began business as a distributor in 1992, supplying diesel fuel tanks, mounting hardware and accessories to specialty equipment O.E.M's, body builders, repair shops, and the aftermarket.
In 2002, recognizing customer needs that were not being filled by traditional sources, the company undertook a transition to become a full line manufacturer for all the tanks and mounting hardware they offer. Products include aluminum, steel and stainless steel rectangular, cylindrical and specialty tanks, as well as popular sizes of L-brackets (rectangular), and J-brackets (cylindrical), steel and stainless steel straps and accessories required for proper fuel tank mounting.
###