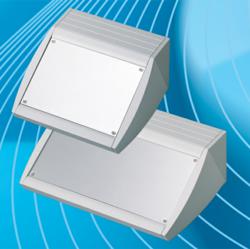 We offer a huge range of custom options so it is very easy to order UNIDESK aluminum enclosures to your exact specification and color.
Bridgeville, PA (PRWEB) May 24, 2011
METCASE – the metal enclosures division of OKW – is building on the success of its UNIDESK aluminum enclosures by offering made-to-measure widths on demand.
The bespoke widths option is making the highly versatile sloping front desktop enclosures more popular than ever with electronics designers.
METCASE has now also made black (RAL 9005) a standard color in the UNIDESK range due to high demand.
Black is proving to be a very popular color choice for enclosures in communications, machine control and heavy duty industrial applications, complementing the existing range of light gray cases.
UNIDESK ergonomic sloping front enclosures can be formatted as desktop enclosures or wall mount enclosures for electronic systems.
Typical applications include point-of-sale terminals; medical and wellness equipment; machine controllers and test and measurement devices.
UNIDESK electronic enclosures are manufactured from two diecast aluminum end panels and extruded front and rear profiles. The cases are supplied pre-assembled and painted in light gray (RAL 7035) or black (RAL 9005).
The base panel is removable and includes mounting points for fitting M3 PCB screw pillars. Four non-slip rubber feet are included. An accessory wall mounting kit is also offered.
Three standard models are available with external dimensions of 7.87" x 7.87" x 4.01", 11.81" x 7.87" x 4.01" and 15.75" x 7.87" x 4.01". Standard prices start at $128.
Anodized aluminum front panels are offered as accessories. They are suitable for mounting membrane keypads, push-button controls and display modules. The cases are provided with both M3 and Torx T10 stainless steel fixing screws.
UNIDESK instrument enclosures can be sealed to IP54 protection class which protects against water splashes and dust. Four L-shaped foam gaskets for the front and base panel apertures are included in the kit.
METCASE can also supply UNIDESK as custom enclosures with additional holes for push-buttons, connectors and displays plus silk-screen printed legends and logos and painting in special colors.
Existing customer PCB sizes can be accommodated by specifying the UNIDESK enclosures in made-to-measure widths. For a minimum quantity of just five pieces, METCASE will cut the case extrusion profile to the correct width and supply a fully assembled housing ready for fitting the customer's PCB assemblies.
METCASE Vice President, Sales, Sean Bailey said: "We offer a huge range of custom options so it is very easy to order UNIDESK aluminum enclosures to your exact specification and color.
"But we were receiving so many requests for black UNIDESK enclosures that it was only logical to make it a standard color option."
Features of UNIDESK aluminum enclosures:

Ergonomic equipment enclosures with very robust design in three sizes
IP54 protection class (VDE tested)
Pre-assembled aluminum case body
Flat rear wall for connectors, switches, power inlets, cable glands
Self-adhesive gaskets for front panel and base
M3 inserts for fixing base and front panels
Optional stainless steel M3 Torx T10 fixings and MS M3 Pozidriv fixings included
Four non-slip feet
Recessed front panel for a membrane keypad
Pre-punched PCB fixing points in base
Order direct or from our distributors
Standard colors – light gray (RAL 7035), black (RAL 9005), powder epoxy polyester paint
Contents – enclosure, gaskets (IP54), base panel, non-slip foot (x4), M3x10mm Torx T10 and M3x10mm Pozidriv Fixings (x14/18)
Accessories – front panel kit, wall mounting kit, PCB pillars and screws.
More information on these and other metal enclosures can be found on the METCASE website or contact Sean Bailey, Tel: 800-965-9872.
Notes For Editors
METCASE specializes in the design and manufacture of high quality aluminum enclosures for the electronics industry. The METCASE range has been designed to allow for modifications to be carried out with ease.
Special sizes and versions of the enclosures can be produced in batch quantities from as little as 10 units. This flexibility provides design engineers with an exceptional range of options for developing new products and variations.
METCASE is also the USA representative for the market-leading RETEX range of flat-pack 19" racks and 19" wall cabinets.
METCASE is a division of the OKW Group.
OKW Enclosures, Inc
3000 Old Pond Road
Bridgeville, PA 15017
Phone: 412 220 9244
Fax: 412 220 9247
###