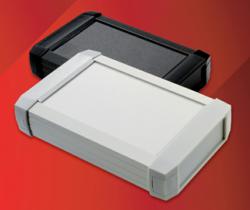 Today's desktop enclosures must work well in an increasingly mobile business environment. SERIES 50 is a tough, attractive range of enclosures that are as much at home being used outside as they are on the desk.
Bridgeville, PA (PRWEB) June 16, 2011
METCASE has unveiled the new RETEX SERIES 50 range of extruded aluminum enclosures for handheld and desktop-mounted electronics.
Typical applications include mobile data recorders, test and measurement instruments, medical and wellness devices, machine control units and RF remote control equipment.
RETEX SERIES 50 aluminum enclosures are available in a range of six standard sizes with external dimensions from 3.22" x 1.06" x 5.11" to 4.80" x 1.85" x 8.66". On demand, the case extrusion can be cut to special lengths to suit customer-specific PCBs.
These highly attractive electronic enclosures comprise an extruded case body and two tough ABS end panels which are mounted using self-tapping screws.
The screws are hidden by four snap-on covers to provide a clean appearance with no visible fixings. These covers can be removed with a small flat screwdriver. The enclosures can be sealed to IP65 (NEMA 4) with the accessory sealing kit.
The case extrusion has internal guide rails for mounting PCBs. Recessed areas on the top and bottom can be used for mounting membrane keypads or product labels. The end panels are also recessed for keypads and labels – and to protect connectors and switches.
SERIES 50 enclosures are finished in fine textured powder paint. The body is painted in off-white or black, and the matching end panels are in gray or black respectively.
For portable handheld applications, slide-in battery compartments can be ordered as accessories. These will accept 1.5V AAA, 1.5V AA or 9V cells. Prices start at $16.
METCASE can supply SERIES 50 as custom enclosures with additional holes for keypads, push-buttons, connectors and control, plus silk-screen printed legends and logos. The cases can also be painted in alternative colors.
METCASE Vice President, Sales, Sean Bailey said: "Today's desktop enclosures must be much more versatile than their predecessors.
"They must be work well in an increasingly mobile business environment. SERIES 50 is a tough, attractive range of enclosures that are as much at home being used outside as they are on the desk."
Features of RETEX SERIES 50:

Modern extruded aluminum enclosures for portable handheld electronics
Ergonomic profile for comfortable holding
Internal guide rails for slide-in PCBs
Recessed areas in case profile for membrane keypads and/or product labels
ABS end covers with recessed connector panels
Snap-on screw covers hide all fixings
Resistant to temperatures up to 85°C (plastic parts)
Battery compartments for AAA, AA & 9V cells
Sealing kit for outdoor use
Materials – case body 6063 aluminum extrusion; covers ABS plastic (UL 94 HB)
Protection Class – IP65/NEMA 4 (with sealing kit)
Standard Colors – case body off-white (RAL 9002) or graphite gray (powder epoxy polyester paint). ABS covers light gray (RAL 7044) or black (RAL 9004)
Contents – case body, ABS end covers (x2), ABS snap-on screw covers (x4), self-tapping screws (x4)
Accessories – battery compartments, battery holders, IP65 sealing kit
METCASE is the metal enclosures division of OKW Enclosures, Inc. For more information on RETEX SERIES 50 instrument enclosures, please view the METCASE website or contact Sean Bailey, Tel: 800-965-9872.
Notes For Editors
METCASE specializes in the design and manufacture of high quality aluminum enclosures for the electronics industry. The METCASE range has been designed to allow for modifications to be carried out with ease.
Special sizes and versions of the enclosures can be produced in batch quantities from as little as 10 units. This flexibility provides design engineers with an exceptional range of options for developing new products and variations.
METCASE is also the USA representative for the market-leading RETEX range of flat-pack 19" racks, 19" wall cabinets and SERIES 50 extruded aluminum enclosures.
METCASE is a division of the OKW Group.
OKW Enclosures, Inc
3000 Old Pond Road
Bridgeville, PA 15017
Phone: 412 220 9244
Fax: 412 220 9247
###