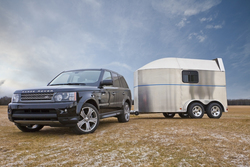 Putting the horse before the trailer
(PRWEB) February 5, 2011
North American horse owners looking for a lightweight horse trailer alternative now have another option to choose from. Typically, a lightweight horse trailer meant compromising strength, durability, interior noise and using non eco-friendly materials like fibreglass.
The unique geometry of a Safr trailer, combined with superior aircraft-grade aluminum, 304 Stainless Steel and Solidworks 3D modeling now means you get the best of all worlds; lighter weight, extreme safety, aerodynamics, durability and a higher future resale value.
"With changes in the marketplace, including the recent announcement of Brenderup USA closing down and the limited availability of other quality European style horse trailers, Safr is positioned to offer North American horse owners an easy to handle horse trailer built in North America", says Johann Sigurdson at Safr Trailers.
Available for order in February 2011, Safr Trailers are light enough to be pulled by an SUV or a smaller truck and are among the safest, strongest and most durable trailers available anywhere. Safr is also accepting inquiries from established horse trailer dealers in select areas.
About Safr Trailers: Safr Trailers is a group of professionals from various disciplines consisting of experienced engineers, expert aluminum fabricators, specialist in horse psychology and physiology and a proven management team. The entire Safr team is devoted to satisfy three fundamental values; safety, efficiency and quality. This starts with putting the horse before the trailer by designing the horse compartment first, then building the trailer around it. Most horse trailers start as a cargo trailer, and are adapted to be a horse compartment. This new approach results in a safer, stress free and more pleasant transportation experience for everyone.
# # #