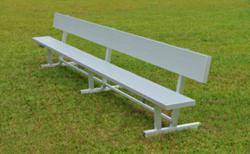 We were able to replace all of the stolen bleachers with funds from Camp Lion in Lynn. Aluminum Bleachers Direct generosity saved the league and city in excess of $2,000.00
Louisville, KY (Vocus/PRWEB) February 17, 2011
Dave Giffen, President of Aluminum Bleachers Direct, was doing some research on the Internet for his aluminum bleacher business back in early December and came across an article about a theft of bleachers at Kiley Park in Lynn, Massachusetts. He immediately reached out to the league president, Dave Dorgan, to see if he could help out.
Mr. Giffen said, "We've been in the bleacher business for over 30 years and we know from time to time things like this happen. These events are always so disheartening and we know how hard it is for organizations such as the Lynn Shore Little League to come up with the funds to replace the stolen property. We wanted to help out and that is why we contacted Mr. Dorgan."
According to Mr. Dorgan, Aluminum Bleachers Direct offered to replace all of the stolen property below cost. "We were able to replace all of the stolen bleachers with funds from Camp Lion in Lynn. Aluminum Bleachers Direct generosity saved the league and city in excess of $2,000.00."
Aluminum Bleachers Direct has been in business for over 30 years but only recently started selling their product line of aluminum bleachers, player's benches, and picnic tables on the Internet. They will be announcing shortly a new policy to make the same offer given to the Lynn Little League available to any organization experiencing the theft of bleachers. Mr. Giffen explained, "We make our living selling bleachers but profiting from organizations that experience a theft is not what we are about. It is a very small gesture on our part to support those that have supported our company."
In a separate announcement, Aluminum Bleachers Direct is giving away a $1,000 Louisville Slugger gift certificate. Registration for the sweepstakes is available to all at the website. No purchase is necessary. Entry deadline is April 18th, 2011.
About ABD
AluminumBleachersDirect.com is an online store offering aluminum bleachers, player's benches, scorer's tables, and picnic tables at the most competitive pricing found on the Internet. The company has been in the bleacher business since 1979. All products are code compliant, meeting local, state, and national building standards. For more information about ABD and their new policy for replacing stolen bleachers contact Dave Giffen at 800-609-1545.
# # #