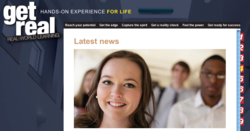 Our students do as much learning off-campus as on, and "class" might meet at the nearby police academy, an area hospital, TV station or elementary school, an organic farm, or even the floor of Parliament in London.
Reading, PA (PRWEB) June 12, 2013
Junior marketing major Devon Sampson is a trend setter. The bright, aspiring advertising executive from North Whales, Pa., is getting hands-on experience as CEO of Alvernia University's student led agency called Professional Edge, and in the process is on the cusp of a national movement underfoot to help college students gain real world experience as part of their education.
More than 1,400 students participate in a multitude of experiential-learning initiatives each year at Alvernia, where the school encourages students to get engaged in real world learning, in part through a new program called "Get Real." The initiative showcases important experiential opportunities and outcomes at the university.
"From presenting at national conferences and leading student organizations, to using state of the art laser equipment and treating patients, our students have their sleeves rolled up as they engage in hands-on learning programs that give them a taste of the real world," explains Alvernia Provost Shirley Williams. "These experiences provide students with skills that are tested, and proven, in actual work environments. Our students do as much learning off-campus as on, and "class" might meet at the nearby police academy, an area hospital, TV station or elementary school, an organic farm, or even the floor of Parliament in London."
Experts see experiential and service-learning as more vital than ever. In a 2013 survey of business and non-profit employers, more than 75 percent said they want more emphasis on five key areas including: critical thinking, complex problem-solving, written and oral communication, and applied knowledge in real-world settings.
"Companies need people who can synthesize information and apply it to business problems," says Jeffrey Holmes, who leads the New York office of the worldwide architectural firm Woods Bagot. "Active learning and working environments, including internships, can develop students' ability to communicate, collaborate, and apply knowledge in the workplace setting — skills that are key to career success."
Alvernia's "Get Real" program is also helping prospective students understand the opportunities and benefits afforded to them through outside the classroom learning options. "Real world learning is a powerful way for students to get all they can from their Alvernia experience," said Brad Drexler, Alvernia's vice president for marketing and communications. "Experiential learning opportunities allow students to translate theory-based concepts from the classroom into practice and offer the chance to "reality-check" possible careers before students complete their degree."
Alvernia's broad mix of learn-by-doing opportunities includes internships, field work, work/study, study abroad programs as well as service-learning — a hybrid of experiential learning and community service.
"Students get hands-on experience and connections for internships and jobs. Community partners get the help they need. It's a win/win," says Jodi Radosh, Ph.D., associate director of the Holleran Center for Community Engagement, and associate professor of English and communication. Radosh's students hone their writing and reporting skills at area TV stations and PR firms, and have landed internships and jobs at national media outlets including CNN and ESPN, as well as local and national corporations and public service institutions.
ALVERNIA is a thriving university that empowers students through real-world learning to discover their passion for life, while providing the education to turn what they love into lifetimes of career success and personal fulfillment, helping them make the world a better place.
Situated on a scenic 121-acre suburban campus in historic Berks County, Pa., the university of more than 3,000 students is conveniently located near Philadelphia (60 miles) and within an easy drive of New York, Baltimore and Washington, D.C. With a College of Arts and Sciences and College of Professional Studies, Alvernia today offers more than 50 undergraduate majors and minors and a range of graduate programs at the master's and doctoral levels through its School of Graduate and Adult Education. Satellite sites are located in Philadelphia and Schuylkill County. As one of only 22 Franciscan institutions in the country, Alvernia's focus on caring for each other, the environment and the community are joined with a challenging educational experience to provide an unparalleled environment to grow, develop and mature as a person and professional.