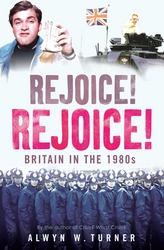 '...one of the pleasures of Alwyn Turner's breathless romp through the 1980s is that it overflows with unusual juxtapositions and surprising insights.' Dominic Sandbrook
(PRWeb UK) May 21, 2010
The Eighties may seem to many of us like yesterday, but they are already two decades ago. Not only have we already become nostalgic for them (witness the recent reunions of eighties bands from Spandau Ballet to Ultravox), but in many ways the decade does seem like a thoroughly foreign country. A naval Task Force sailing to re-take an insular outpost in the South Atlantic (with the QE2 converted to a troopship!)… Almost a quarter of Britain's heavy industry wiped out by savagely monetarist policies, laying waste to whole heavy industries like coal mining and shipbuilding. Boy George sweetly crooning "Karma Chameleon". The extraordinary pitched battles of the miners' strike. The panic of the early stages of AIDS.
Now, Alwyn Turner has written the first full-length, in-depth history of this most fascinating of decades. If the Seventies, the subject of his previous book, were the last gasp of the old Britain, the Eighties were a truly transitional, politically revolutionary decade, when Thatcherism remade Britain's economy and its society, but when Britain's social fabric also changed in many infinitely more encouraging ways: the response to famine in Ethiopia with the global Live Aid concert; gay rights.
Witty, formidably well-informed, on political intrigue as well as every last soap opera and rock album, this is a piece of genuinely new history.
Alwyn Turner is a London-based writer of non-fiction, whose work covers an eclectic range of interests, from paperback to politics, fashion to architecture, rock & roll to military bands. He is the author of Crisis? What Crisis?, The Biba Experience and Halfway to Paradise: The Birth of British Rock. In previous lives he has been a gardener for the Army, a cinema projectionist, a failed election candidate, a secretary and a singer with an art-noise post-blues band. http://www.alwynwturner.com
Rejoice Rejoice by Alwyn Turner will be published on May 6th 2010, £20.00.
For further information please contact Sarah Whale on 020 7284 7182
###