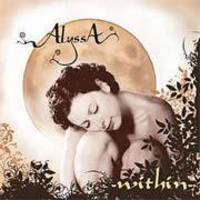 ...it can be as good as you imagined
Los Angeles, CA (PRWEB) February 25, 2009
Eco-tainer AlyssA Angelica James, an accomplished singer and stand-up comic, and passionate activist for the environment and alternative health movements, is taking the music world by storm with her new eco-conscious music album.
With the release of AlyssA's first full length album entitled "within," environmentalists and music lovers alike are taking notice of her soulful eco-conscious lyrics. AlyssA eloquently incorporates her everyday observations, spirituality, and living a holistic lifestyle into this album to tell her story. Being one of the early pioneers of the eco-tainment movement, AlyssA uses music and stand-up comedy to create awareness about the environment.
AlyssA's music takes the listener on a journey fusing a range of genres and styles, including pop, folk, jazz and soul, to create a powerful and intoxicating sound. The album opens with the song "Earth Child" (track one), which she was inspired to write after chanting OM in a yoga class and by her love of nature. "Pure and Holy" (track seven) draws the listener in with simple percussion and nice guitar hooks. It is written about her observations on the government and big business and the impact they have on the environment. AlyssA gives hope in the chorus when she says "...it can be as good as you imagined". While the song "Firefly" (track eight), sounds like a jazz standard and pays a sweet homage to an insect and celebrates the way it speaks in a language of light.
AlyssA became passionate about living an eco-friendly and holistic lifestyle after hitting rock bottom with an illness called Crohn's Disease. After 10 years of hospitalizations and medications and being worse off than at the onset of her sickness, AlyssA turned to mother-nature and set out on her journey to heal herself holistically.
"When I was in the hospital I went into a meditative state and had a third eye perspective on how to view this earth and nature. I did a lot of song writing then and the lyrics just came to me as if from a higher source. Creating eco music and comedy really became therapeutic for me," says AlyssA.
Being a tree hugger at heart, she finds that people take her message more seriously when there's something entertaining about it. AlyssA shares comedic stories and thoughts in between her song sets during live music performances, creating a self-awareness in people about their bad habits towards the environment. Her eco-tainment performances are conveyed with passion and some how take hold and adhere to people's psyches.
"It is how the message is being delivered that strikes a cord with people," she goes on to explain. "They're not expecting a short, white woman to make them laugh and preach about the environment at the same time."
AlyssA can be found performing her eco music and comedy currently in her one-woman show. For bookings and more information about AlyssA, please go to AlyssA Angelica James
To sample her music, click on her MySpace page at AlyssA Angelica James
Media inquiries may be directed to:
Erika Maya
erika (at) ballantinespr (dot) com
Tel: 310 454 3080
Cell: 310 850 0309
Ballantines PR
Ballantines PR
###