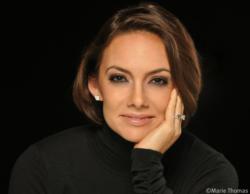 Women are dying and they don't have to. I want to help change that.
Atlanta, GA (PRWEB) January 04, 2012
Physician Assistant and now Double Bone Marrow Transplant Survivor, Alyssa Phillips never imagined she would find herself on the other side of the medical equation in such a big way as when she was told—at only 31 years old— that she was in Stage IV on one of the rarest and most aggressive forms of cervical cancer known (Large-Cell Cervical Neuroendocrine Cancer with Distant Metastases) and given a less than five percent chance of survival. January is National Cervical Health Awareness Month and Phillips is using her story and the life-saving, yet virtually unknown, treatment protocol she received to raise awareness of this rare form of cancer.
"Women are dying and they don't have to. I want to help change that."
As a medical practitioner herself, Phillips is working with her doctors to submit her case into the Gynecologic Oncology literature so that doctors all over the world will be able to find this cutting-edge, life-saving treatment protocol that includes a radical hysterectomy, multiple rounds of high-dose chemotherapy and two, back-to-back, bone marrow transplants.
"I won't lie. It was tough. But it was worth it. I'm truly happier and healthier than ever before—and running again! I feel a responsibility to share this information with others. I remember how desperate I was to find a way to survive this disease, which is basically a death sentence without this new treatment. Time is critical with this type of cancer and I was blessed to have been led to this option early on. I want to help give that gift to other women. I can't imagine anything better than that."
You may learn more about Alyssa and her story on her website, alyssaphillipsinc.com.
###