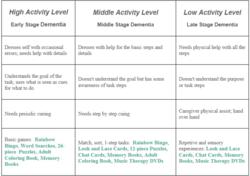 "I love how the MindStart activity products can be used for all levels of dementia"-Katie, Occupational Therapist
Minneapolis, MN (PRWEB) February 27, 2013
A person with a physical ailment or deficit is usually easy to see – hopping with crutches for a sprained ankle or wearing a cast and sling for a broken arm. People around the person can anticipate how they can help, such as holding the door or tying the person's shoes.
This is not the case for people with dementia, such as Alzheimer's disease or Frontotemporal dementia. For most of the course of the disease, these patients will physically show no sign of illness. Only when the person is asked to do a task or remember something might surrounding people realize that the person has trouble thinking. Once they realize this, they likely are not sure what to do to help – it is not obvious how to help a 'thinking' problem like it is with a physical problem.
MindStart, a designer of brain stimulating activities for people with dementia, knows about the different stages of dementia. MindStart creates its products based on the knowledge that people with dementia have different needs at different stages and that caregivers need guidance in their approach in dementia care. Founder, Monica Heltemes, is an occupational therapist, a profession that is expert at detecting a person's difficulties with tasks and then adapting the tasks to utilize the person's strengths.
To help caregivers know what brain-engaging products may help the person with dementia, MindStart now reveals 'Activity Levels'. The Mindstart Dementia Activity Levels are based on the stages of dementia (early, middle, and late) and can be viewed in larger format on their website. Once the caregiver determines the Activity Level the person is currently functioning at, appropriate products for that level can be chosen.
Many MindStart products, such as its Rainbow Bingo, Word Searches, and Chat Cards-Baby, have uses for more than one Activity Level. The included User Guide with each product describes how the product can be used at the different Activity Levels. This allows the product to continue to be used, as the person moves to a different Activity Level, say from Early to Middle. Or if the product is used in a group or facility setting, the same product can be used for different people, who are at different stages of dementia.
MindStart, founded in 2010, strives to provide cognitive stimulation, engagement, and joy to individuals with dementia and their caregivers. They are the only United States' company to offer a line of original activity products designed for people living with dementia, such as adapted puzzles, games, DVDs, and books. In addition, they provide educational tips, resources, and activity ideas for people providing dementia care, both professional and home caregivers through their website, email updates, and social media sites.