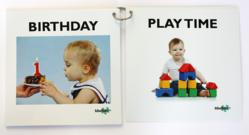 Individuals with dementia have been observed smiling and talking about the images on the Chat Card – Baby
Minneapolis, MN (PRWEB) January 30, 2013
Alzheimer's disease and other forms of dementia affect millions of Americans. The disease initially starts with minor forgetfulness, errors, and trouble finding the right word. As the disease progresses, individuals with Alzheimer's can become withdrawn and less social, as their communication skills and everyday abilities decline. Undesirable actions, or behaviors, such as anxiety or calling out may also occur.
Non-drug therapies have been found to be helpful with people with dementia to promote interactions with others and involvement in daily tasks, while decreasing negative behaviors. Examples of non-drug therapies include activity therapy, music therapy, and doll therapy.
Doll therapy involves using a doll for the patient with dementia to hold and talk to. Research studies of doll therapy tell of women who were extremely withdrawn and had lost their ability to speak and smile, become more interactive, as they spend hours with the "baby", speaking to it, and reassuring the baby—just as they had with their own babies. In addition, a 2007 study from Nursing Times, showed that the use of dolls in dementia care increased positive behaviors and decreased negative behaviors, including incidents of aggression.
However, the study also explains the challenges to using doll therapy with dementia patients, and even controversy. Challenges include arguments between residents over ownership of the dolls, residents trying to feed their dolls, and dolls being misplaced, leading to distress. Also, some staff, families, and friends felt that the use of dolls was degrading to the adult user and was infantilizing them.
MindStart, a dementia care product company, recognizes the value and success of using tools that trigger memories and positive emotions to elicit actions and communication for people with dementia. It has created a number of adapted Alzheimer activities that are age-appropriate for adults with dementia, yet simplified, to work even as the person progresses through the stages of the disease process. To provide a tool that could provide many of the benefits of doll therapy, while remaining dignified for adults, MindStart has released a new product Chat Cards – Baby™.
Chat Cards - Baby are an 18-card set of 5.75" square, unbendable cards conveniently held on a ring. They feature simple and adorable images of babies in everyday situations, such as 'Feeding Baby' and 'Bath Time', stimulating the mind of the person with dementia by sparking memories and evoking emotions. They include useful suggestions for conversation and related activities that can be encouraged for early, middle, and late stages of dementia. They are durable, easy to handle and transport, and can be used individually or in small groups.
Individuals with dementia have been observed smiling and talking about the images on the Chat Cards – Baby and carrying the cards around, stimulating language and interactions. Yet, they have not posed the same challenges of doll use, namely attempting to feed the 'baby' or complaints of infantilizing the individuals with dementia. MindStart Chat Cards – Baby offer the perfect alternative to doll therapy, providing the benefits of this type of stimulation without the potential negative consequences.
MindStart, founded in 2010 by dementia care occupational therapist, Monica Heltemes, strives to provide cognitive stimulation, engagement, and joy to individuals with dementia and their caregivers. They are the only United States' company to offer a line of original activity products designed for people living with dementia, such as adapted puzzles, games, DVDs, and books. In addition, they provide educational tips, resources, and activity ideas for people providing dementia care, both professional and home caregivers through their website, email updates, and social media sites