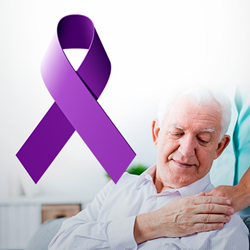 Alzheimer's is a terrible disease that steals lives, and our agency is on a mission to help gather funds used for Alzheimer's research and for enabling Alzheimer's patients to live with dignity
Little Rock, AR (PRWEB) October 12, 2016
Dickinson Insurance and Financial Services, a locally managed insurance and financial planning firm that provides services to families and businesses throughout central Arkansas, is announcing plans for a charity event that will promote Alzheimer's awareness and help direct funds toward research into cures and treatments for the disease.
November is National Alzheimer's Disease Awareness Month, and the Dickinson Insurance charity event will provide communities in and around Little Rock with access to current information on Alzheimer's disease. The team will also be raising donations that will be used to fund research into treatments and cures for the disease, as well as improving quality of life for many Alzheimer's patients receiving treatment nearby.
"Alzheimer's is a terrible disease that steals lives, and our agency is on a mission to help gather funds used for Alzheimer's research and for enabling Alzheimer's patients to live with dignity," says Jason Dickinson, founder and acting manager of Dickinson insurance and Financial Services.
The Dickinson team is actively reaching out to civic leaders, families, business owners, and associates throughout Little Rock to gather traction for the charity event over social media and email. Additionally, Dickinson Insurance and Financial will be publishing a full page article discussing the Alzheimer's event in "Our Hometown," an online community interest periodical produced regularly by the agency: http://www.dickinsoninsuranceagency.com/Our-Hometown-Magazine_39.
Well over a dozen charitable causes and nonprofit organizations operating in and around the Little Rock region have received assistance from Dickinson Insurance and Financial Services over the last two years. Dickinson and his team are members of the nationwide "Agents of Change" charity involvement campaign, and plan to continue assisting local charities on a regular basis.
All those who would like to be part of the Dickinson Insurance and Financial charity event to fight Alzheimer's are invited to follow this link and take action in support of the cause: http://www.dickinsoninsuranceagency.com/Go-Purple-with-a-Purpose-for-Alzheimers-Disease-Awareness-Month_25_community_cause. Details on past charity drives undertaken by the Dickinson team can be found on the agency's Community Causes page: http://www.dickinsoninsuranceagency.com/community-cause.
About Dickinson Insurance and Financial Services
The Dickinson Team is proud to be part of a company that has been serving satisfied customers for over 70 years. They offer quality insurance that's affordable and provide easy access for clients to contact them in person, over the phone, or through their website—wherever and whenever clients need. Dickinson knows how important price and excellence in service are in building long-lasting relationships, and they make every effort to secure that loyalty by holding high standards, individually and as a team. To contact an expert at Dickinson Insurance and Financial Services, call (501) 221-3000.