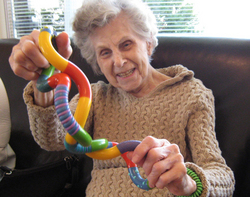 When Bernice started to become disinterested in or incapable of doing things she once enjoyed, she became moody and agitated. We found ourselves in over our heads, so we got busy and started researching.
Grayslake, IL (PRWEB) December 1, 2010
Best Alzheimer's Products, a new online store based in Chicago, is making holiday shopping for loved ones with Alzheimer's disease and other dementia's easier. With 5.3 million people in the United States suffering from Alzheimer's, you likely know or even care for someone with this condition. The online store offers several hundred activities, games, books, DVDs and puzzles selected to enhance the quality of life for people with this disease. They even offer an abundance of affordable gifts all priced under $10 to fit any budget, or as they advertise, to use as stocking stuffers.
It can be difficult to find a store that caters exclusively to people with dementia: There just aren't many. Best Alzheimer's Products has done a superior job collecting hundreds of products that are appropriate for this population. Perhaps more importantly, the company's founders have done their research. The website is full of useful information about why different activities are effective, and which products are best for people in different stages of this disease.
What kinds of activities are beneficial to a person suffering from Alzheimer's? Holly and John Schmid, the founders of Best Alzheimer's Products, had to ask themselves this question when they were suddenly faced with the responsibility of caring for a friend with this disease. They wanted to provide her with the best quality of life possible.
After hundreds of hours spent researching, Best Alzheimer's Products was born. The website began in an effort to help provide information to people in similar situations. Eventually a store was added with products that focused on providing gentle sensory stimulation and meaningful age- and stage-appropriate activities. A growing body of evidence reports that appropriate sensory stimulation will effectively decrease agitation and restlessness. These symptoms are very common in most forms of dementia. Activities that are tailored to the interests and the needs of the individual provide a sense of purpose and accomplishment. This all translates to an improved quality of life for the patient as well as for the caregiver.
Holly and John are dedicated to the idea that people with Alzheimer's and other forms of dementia can still lead comfortable and dignified lives; Best Alzheimer's Products strives to make this possible.
# # #