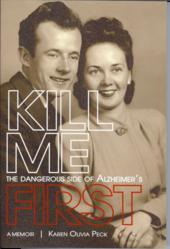 "Kill me first, Karen. Just kill me. I don't want to be one of those la-la land people. You make sure that I'm dead."
Corvallis, OR (PRWEB) December 11, 2012
Alzheimer's is the sixth leading cause of death in our country and the only one of the top ten causes of death that has no cure, no treatment and no known cause. In people over the age of 80, it is epidemic although there is early onset of Alzheimer's that can affect people as young as thirty. There are seven defined stages of Alzheimer's, but the greatest unknown about Alzheimer's patients is how and when their personalities will change, and to what? Will they stay the same, will they become more cheerful, will they become paranoid, or will they turn violent? Karen Olivia Peck has written a captivating book about her experience as her mother's caregiver and how drastically her mother changed from a fairly passive woman to someone who seriously injured her husband of sixty-five years causing his death. Elder-on-elder abuse is vastly under-reported and it can become part of the changes that Alzheimer's brings to dementia patients. Peck's book brings the dangerous side of Alzheimer's to light.
Karen Olivia Peck's mother was terrified of mental illnesses. Her own mother had displayed Alzheimer's symptoms for several years before she passed away in her late eighties. One day, when she was still healthy, Peck's mother told her: "Kill me first, Karen. Just kill me. I don't want to be one of those la-la land people. You make sure that I'm dead."
There are many helpful books and articles available about Alzheimer's disease. Most of them deal with care giving, recognizing the symptoms, or scientific publications about studies and experimental drugs.
Very few people, if any, have truly mined the depths of this horrific disease, but Peck has managed to tell the story about her relationship with her mother and how drastic the situation became when her mother's personality changed and she became so cruel, especially to Peck's father.
"Kill Me First: The Dangerous Side of Alzheimer's" is the compelling memoir detailing her mother's transition from a normal healthy, highly functional woman to a paranoid and violent Alzheimer's patient.
For Peck, Alzheimer's was an experience and an education that she never wanted, but when her mother was diagnosed as a danger to herself and to others, there was never any doubt that Peck had to step into her parents' lives and take over in order to protect them from themselves.
One morning, after Peck had moved her parents to an assisted living facility, her mother assaulted her father and five days later he died. Peck was in the middle of petitioning the court for custody of both of her parents. Peck found that the legal system was sluggish and not very sympathetic to her plea for guardianship and conservatorship of her parents and the case move so slowly. By the time Peck prevailed in her legal petition, her father was dead and her mother had wasted over fifty-four thousand dollars on junk items that she hoarded.
Hoarding, accumulated filth, prescription drug mismanagement, poor financial management all became part of Peck's parents' lives as her father developed vascular dementia and her mother was diagnosed with Alzheimer's. The herculean effort to step into someone else's life in order to protect them is beautifully illustrated in this book.
Peck has written a gripping raw story about being a care giver for over seven years to someone who did not want to be cared for. Peck's book, "Kill Me First: The Dangerous Side of Alzheimer's," explores how dementia patients such as Peck's parents, can lose contact with reason, logic and fail to plan for the consequences that occur when dangerous decisions are carelessly made by a brain affected by Alzheimer's. This book is a harrowing tale about the violent personality changes that can occur in Alzheimer's patients.
"We will all be asked to be the hero of someone else's life when Alzheimer's comes along," says Peck.
ISBN 978-1-4675-0428-7
"Kill Me First: The Dangerous Side of Alzheimer's" is available from amazon.com and barnesandnoble.com.
To arrange a book signing or interview, contact Karen Olivia Peck at kpeck(at)peak(dot)org or at Twisted Tree Publishers
P.O. Box 5060 SW Philomath Blvd
# 345
Corvallis, OR 97333