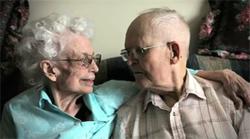 If you have a loved one that is becoming forgetful, and can't remember recent events, such as what day it is, or what grocery item they went to the store to pick up, they may be showing the first signs of Alzheimer's disease.
Omaha, NE (PRWEB) February 17, 2012
Only a medical professional can properly diagnose Alzheimer's. Become aware of the early warning signs and Alzheimer's stages, to be empowered to get professional help right away.
According to the National Institute on Aging, Alzheimer's disease (AD), is named after German neuropathology specialist Alois Alzheimer, is the most common form of dementia.
Wikipedia defines dementia as a serious loss of global cognitive ability that can affect memory, language, problem solving and awareness.
Is a parent, relative or loved one becoming forgetful, and can't remember recent events, such as what day it is, or what grocery item they went to the store to pick up?
They may be showing signs of the first stage of Alzheimer's disease: early dementia.
In this stage, individuals with Alzheimer's retain some insight into their situation and environment, but every day become more confused and forgetful. They may begin to lose language skills, have trouble handling money and paying bills, forget once-familiar tasks and have some personality changes.
It may seem that a loved one is battling the condition and struggles to stay on top of their daily activities and routine.
During this early dementia stage it can be especially difficult for the family to manage issues around driving and money management, but this is why it is important to recognize the symptoms so that proper care can be implemented, before there is an accident at home or on the road.
There is currently no cure for Alzheimer's disease, and the spouse or family members are often the main care providers. This can become especially difficult and stressful as the condition progresses.
Don't avoid concerns that a loved one may be experiencing any of these early symptoms. Instead the best thing to do is contact a doctor right away. Early detection may make it easier to get help and assistance to treat and aid the family member.
Read a series of articles designed to help inform concerned individuals about Alzheimer's and dementia. Included are resources and services available to assist your family member who may be struggling with the condition.
About Home Instead Senior Care
Founded in 1994 in Omaha by Lori and Paul Hogan, the Home Instead Senior Care® network is the world's largest provider of non-medical in-home care services for seniors, with more than 950 independently owned and operated franchises providing in excess of 45 million hours of care throughout the United States, Canada, Japan, Portugal, Australia, New Zealand, Ireland, the United Kingdom, Taiwan, Switzerland, Germany, South Korea, Finland, Austria, Italy, Puerto Rico and the Netherlands. Local Home Instead Senior Care offices employ more than 65,000 CAREGiversSM worldwide who provide basic support services – assistance with activities of daily living (ADLs), personal care, medication reminders, meal preparation, light housekeeping, errands, incidental transportation and shopping – which enable seniors to live safely and comfortably in their own homes for as long as possible. At Home Instead Senior Care, it's relationship before task, while continuing to provide superior quality service that enhances the lives of seniors everywhere.
###