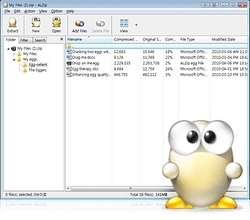 ALZip 8.0 beta enhanced the global file sharing process with full Unicode support, reducing compression ratio and faster zipping speed.
(PRWEB) May 15, 2010
ALZip 8.0 beta, a new major upgrade this year, has been released by ESTsoft Corp., a producer of ALTools Utility. The noticeable features of the new ALZip are full Unicode support and faster zipping speed as well as better compression ratio through its own file format "EGG."
The new ALZip changes every compressed file to its own language. When unzipping a foreign language file, users often encounter a broken file title, which is hardly recognizable which language it is. ALZip solves this problem with the function called "Auto Select" button. By pressing this button, ALZip translates all files into its original language.
Users are also available to select different languages for compressed files. ALZip supports almost all existing languages, thus users can freely read and unzip any foreign files with ALZip.
Another notable feature of ALZip 8.0 beta is its own file format "EGG." ALZip's new file format EGG fully supports Unicode. This means users can keep any language file as original in OS with different languages. For example, it is available to read the title of compressed French movie file in English version of Windows 7. As EGG format is capable of recognizing more than 107,000 characters, global users can get Unicode support without any language issues.
EGG format's so-called "Solid compression method" reduces compression ratio with connecting all files as if there is one file. Especially, solid compression greatly reduces the size of the archive when there are same patterns or duplicate information among the files to be zipped.
EGG file's compression algorithm improves the compressing speed as well. As it is smart enough to distinguish executable files for compression, ALZip 8.0 beta skips compressing media files such as .WMA, .AVI, which cannot be compressed and does its work only to normal files.
The new ALZip opens 40 file formats including zip64, which can open more file archives than any other major utility.
Stronger file security with AES-256 encryption support and integration with anti-virus software are also included in ALZip 8.0 beta.
Alan Chung, the director of ALTools Division says "As more users from various countries share files throughout the world, the improvement in the process of file sharing is necessary. ALZip 8.0 beta enhanced this file sharing process. ALZip's full Unicode support, reducing compression ratio and faster zipping speed are expected to contribute to the convenience of file sharing in globalized internet world."
To celebrate the release of ALZip 8.0 beta, ESTsoft Corp. holds ALZip 8.0 free license key event.
Users can get ALZip 8.0 free license key by sending email through ALZip installation banner, website and Facebook page. The free license key will be sent to each user by email when the official ALZip 8.0 is released. The users' email will be used only for the purpose of sending free license key.
Visit ALTools website http://www.altools.com for more details.
About ALTools Utility
ALTools are free PC applications and multimedia programs which include: ALZip, a cute & Easy compression utility; ALShow, a DVD and movie player; ALSong, an MP3 live music lyrics player; ALSee, a picture viewer and photo editor; ALPass, a secure web login and password manager; ALToolbar, a friendly web surfing helper; and ALFTP, a FTP client/server.
About ESTsoft Corp.
ESTsoft Corp., a leading software developer since 1993, has been highly recognized as a provider of PC utilities named ALTools and various software including: BizHard, a web storage solution for SMB; InternetDisk, a web storage solution; and CABAL online, a MMORPG. With over 25 million individual users, various companies, government agencies and educational institutions are now ESTsoft's valued customers. For more information on ESTsoft, please visit http://www.estsoft.com.
###