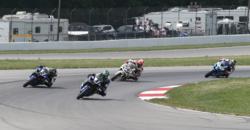 The first half was a really tough race. I was running what I thought was a really strong pace. Honestly, it was pretty tough to get around Blake.
LEXINGTON, Ohio (PRWEB) July 14, 2012
Despite a dash of unexpected early drama, the inevitable occurred at Mid-Ohio Sports Car Course on Saturday at the Buckeye SuperBike Weekend presented by Dunlop Tire as AMA Pro National Guard Superbike Champion Josh Hayes escaped to claim his sixth consecutive victory in AMA Pro Road Racing's premier class.
The Monster Energy Graves Yamaha ace seemed primed to run off from the start, pulling a quick three-quarter second lead on the opening lap. However, an early red flag was shown due to a malfunctioning starter light, which forced a complete restart.
The Mississippian didn't have things quite as easy the second time around, as Yoshimura Suzuki's Blake Young blasted from eighth on the grid to storm into first by the second turn. The racy Young proved difficult for Hayes to find a quick path by and the field bunched up behind them in the restarted race's opening stages.
Hayes managed to dive up the inside of Young to take control of the lead on lap three but soon found himself harried by his works Yamaha teammate, Josh Herrin, who followed past Young.
Similar to their race at Barber Motorsports Park, Herrin was able to stay in his wheel tracks and actually reel Hayes in at certain points. The champ broke his young challenger's hopes on lap 9, opening up an additional half-second. Herrin crashed just over a lap later in the Carousel in his bid to stay in the fight.
From that point on Hayes cruised to the checkered flag, notching up his ninth win on the season. The victory was also the 26th of the Yamaha superstar's career, moving Hayes to within two victories of three-time champ Ben Spies for third on the all-time order.
"The first half was a really tough race," Hayes said. "I was running what I thought was a really strong pace. Honestly, it was pretty tough to get around Blake. I gave it a shot a couple of times and was coming up short and overshot it once; he's pretty hard to pass. Once I did I just tried to keep my wits about me and ride smart and put together good, clean laps."
Young's close-quarters melee with National Guard Jordan Suzuki's Roger Hayden for third was elevated to a fight for second. The two traded the spot multiple times, but in the end the top-end hit of Young's Yoshimura Suzuki gave him the advantage required to beat Hayden for the position.
Attack Performance Kawasaki's Steve Rapp was an impressive, albeit lonely fourth, well clear of an intense shootout for fifth behind him.
Jordan Suzuki's Ben Bostrom held the advantage for the majority of the tilt but eventually gave way to both Foremost Insurance Pegram Racing's Larry Pegram (fifth) and Team Amsoil/Hero EBR's Geoff May (sixth) in the end.
The rolling Hayes now boasts a 44-point advantage over second-ranked Young (352-308) and will look to up his season win tally into the double-digit territory he famously sought, and fell short of attaining, in 2011.
AMA Pro GoPro Daytona SportBike
The 21st and last lap of the Saturday AMA Pro GoPro Daytona SportBike race at Mid-Ohio was one of the highlights of the motorcycle racing season. Dane Westby won a battle of teammates on Saturday as he topped championship leader Martin Cardenas on the final time around the 15-turn, 2.4-mile track.
Westby, on his M4 Broaster Chicken Suzuki, was the early leader and ran at the front the entire distance, but trailed Cardenas on his GEICO Suzuki on the last lap. Westby's bid for the win at turn six came up short, but he was able to zip back to the front just three turns before the finish.
"It was a barnburner and Martin wasn't going to give it up," said Westby, who got the holeshot for the first time this season. "I played my cards right and got the win but it was really close." The victory was Westby's second career Daytona SportBike win and allowed him to move into a clear second place in series points.
Cameron Beaubier was third, having lost the lead duo in the last few laps but rallying to turn in the fastest lap of the race the final time around on his Y.E.S./Graves/Yamaha YZF-R6.
He finished ahead of teammate Tommy Hayden, who had worked his way up through the field during the event. Veteran Jake Zemke (Ducshop Ducati) followed in fifth.
AMA Pro Motorcycle-Superstore.com SuperSport
Polesitter Dustin Dominguez created a bit of early drama in Saturday's 17-lap AMA Pro Motorcycle-Superstore.com SuperSport race when he sputtered off the line and was instantly enveloped by the field. Dropping outside the top ten as the pack raced into the first corner, the Latus Motors Racing Triumph pilot quickly regrouped and sliced his way forward.
He actually took control of the lead before the completion of the race's second lap with a bold around-the-outside pass on Orient Express/Celtic Racing's James Rispoli. Once in first Dominguez immediately opened up some space and proceeded to power away to a clear victory over runner-up Rispoli.
A pair of early-race leaders, Kneedraggers.com's Stefano Mesa and local favorite Ryan Kerr on the RFC Kawasaki, waged an intense war for the final spot on the podium, along with RoadRace Factory/Red Bull's Tomas Puerta and his late-arriving teammate, Hayden Gillim. The scrap featured a bevy of aggressive and creative passing maneuvers, but on the final lap Mesa did a superb job of blocking to ultimately walk away with third.
Kerr finished fourth, followed by Puerta, and Gillim.
Catch the Action on SPEED
This weekend's AMA Pro National Guard SuperBike and GoPro Daytona SportBike doubleheaders will be featured on SPEED in a set of back-to-back, same-day delayed broadcasts, scheduled to begin at 11:00 p.m. ET/8:00 p.m. PT on Saturday and Sunday nights.