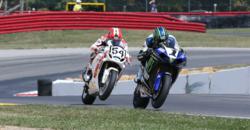 I'm really glad I was able to pull it off. It's fun. It was exciting racing and I'm glad to come out on top of one of those.
Lexington, Ohio (PRWEB) July 15, 2012
Two-time AMA Pro National Guard SuperBike Champ Josh Hayes accomplished the goal he set for himself a year ago by claiming his 10th victory of the 2012 season on Sunday at Mid-Ohio Sports Car Course, but it was far from the romp that many expected.
Hayes fell well short of the feat in 2011, taking just three wins en route to his second consecutive title. The Monster Energy Graves Yamaha ace has been in peak form in '12, however, notching up ten wins already with several races remaining, but he was pushed to the brink to double at the Buckeye SuperBike Weekend presented by Dunlop Tire by the resurgent Roger Hayden on the National Guard Jordan Suzuki GSX-R1000.
Hayes found himself embroiled in an early dogfight with Hayden and Yamaha teammate Josh Herrin, who actually led in the race's early stages. The trio became a duo on lap 7 of 21 when Herrin ran wide on the brakes at the end of the back straight. Once he lost the rear wheel of Hayes to measure off of, Herrin had no chance to run the lead pace and quickly drifted back into the clutches of a charging Blake Young.
The battle for third didn't rage long though -- Young crashed out of the fight on lap 9, losing the front of his Yoshimura Suzuki GSX-R1000 in the keyhole as his faltering title campaign suffered a huge hit.
The scrap at the front remained heated until the end, however. The Kentuckian spent the majority of the race tucked a tenth or two behind the champion, but also took control of the race for a couple of brief moments.
Hayden swung by on lap 16 before Hayes powered by on the straight and then made what he hoped to be a decisive assault on the race's final lap, diving by deep on the brakes at the end of the back straight.
Hayden miraculously held his line relatively tight considering his rapid approach but Hayes still had a counterpunch to deliver, slotting his Yamaha YZF-R1 right back in front into the following corner.
At that point, Hayes successfully defended the position and claimed his seventh consecutive victory, equaling the single-season consecutive win record, previously accomplished by both Ben Spies and Mat Mladin.
Hayden was just 0.224 seconds back in second, his most impressive National Guard SuperBike ride to date.
The win was Hayes' 27th SuperBike triumph, just one behind Spies for third all-time.
"I'm really glad I was able to pull it off," Hayes said. "It's fun. It was exciting racing and I'm glad to come out on top of one of those."
Herrin cruised to a lonely third, finishing 13.674 seconds off the win. Attack Performance Kawasaki's Steve Rapp equaled yesterday's effort with another fine fourth-place run. Team Amsoil/Hero EBR's Geoff May rounded out the top five, taking advantage of a technical issue for Jordan Suzuki's Ben Bostrom, who earlier battled for position with Rapp before falling off the chase.
Hayes now leads by a mammoth 67 points over Young, 383-316.
AMA Pro GoPro Daytona SportBike
Cameron Beaubier of the Y.ES./Graves/Yamaha team won the Sunday AMA Pro GoPro Daytona SportBike race at Mid-Ohio Sports Car Course. Beaubier took his third win of the year by outlasting the early drama, then dropping the hammer in the last few laps to win by 0.779 of a second over yesterday's winner, Dane Westby of M4 Broaster Chicken Suzuki, and the resurgent Bobby Fong of the Meen Motorsports team.
Beaubier kept rising to the lead in the multi-rider pack that included Westby, Fong and Martin Cardenas of GEICO Suzuki. Westby couldn't mount a stronger challenge to Beaubier when he developed a little chatter at the end of the race, plus had his hands full with Fong.
Cardenas lost the lead pack on lap 14 when the pace dropped into the 1:28s. The current Daytona SportBike points leader couldn't quite match the pace and was relegated to fourth. He and fifth place Tommy Hayden were well clear of the rest of the field, though.
AMA Pro Motorcycle-Superstore.com SuperSport
Dustin Dominguez (Latus Motors Racing Triumph) swept the AMA Pro Motorcycle-Superstore.com SuperSport class at Mid-Ohio, topping James Rispoli (Orient Express Celtic Racing) and Hayden Gillim (RoadRace Factory/Red Bull) in Sunday's final.
AMA Pro Vance & Hines XR1200 Series
Bartel's Harley-Davidson's Tyler O'Hara got his revenge following two straight victories on the part of title rival Kyle Wyman (KLR Group/Vesrah Racing) with a hard-earned win in Sunday's AMA Pro Vance & Hines XR1200 Series 11-lapper at Mid-Ohio. MOB Racing's Michael Barnes took home the final podium spot.
Next Event
The AMA Pro Road Racing series will join the superstars of the MotoGP World Championship for the Red Bull U.S. Grand Prix at Mazda Raceway Laguna Seca on July 27-29 in Monterey, California.
About AMA Pro Racing: AMA Pro Racing is the premier professional motorcycle racing organization in North America, operating a full schedule of events and championships for a variety of motorcycle disciplines. Learn more about AMA Pro Racing at http://www.amaproracing.com.