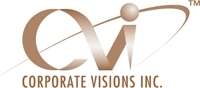 More companies are realizing that their two most expensive resources - marketing and sales departments - need to be working better together to make sure they are having the greatest business impact
Incline Village, NV (PRWEB) August 15, 2008
The American Marketing Association (AMA) has tapped Corporate Visions' executive Diane Emo as the instructor for its Marketing and Sales Alignment training and educational series. The 2-day workshop will be held in Chicago, San Francisco and Boston and is designed specifically for marketing executives looking to increase their impact on sales effectiveness.
The AMA is North America's largest professional marketing association. Corporate Visions Inc. is the leading marketing and sales messaging company, providing consulting, training and products for companies such as Caterpillar, Dell, MasterCard, AmerisourceBergen, ADP and many others. Diane Emo is SVP of Products and Learning for Corporate Visions and co-author of the book Customer Message Management - Increasing Marketing's Impact on Selling. She worked with the AMA to develop the 2-day course based on best practices and client experiences gained while creating, delivering and managing more customer-focused messages for these world-class companies.
"This is a great acknowledgement of Corporate Visions' thought leadership in the area of marketing and sales alignment and a credit to Diane's experience and expertise," said Joe Terry of Corporate Visions. "We're proud to be identified and selected by the AMA as their partner for developing and bringing this strategic hot topic to the marketplace."
The training class is focused on equipping marketing professionals with practical examples, tools and hands-on coaching for creating more customer-relevant messages, delivering more sales-relevant communications tools and managing a repeatable, sustainable process for doing both inside your company. You can register for the events at http://www.marketingpower.com/tsims .
In addition to the training class, Corporate Visions' provides marketing and sales alignment thought leadership to the AMA in another way. Tim Riesterer, Corporate Visions, SVP of Strategic Consulting and CMO is Content Director for the AMA's Marketing and Sales Alignment Forum (http://www.marketingpower.com/msa ), a consortium of companies dedicated to providing online and offline educational content and events on the topic.
"More companies are realizing that their two most expensive resources - marketing and sales departments - need to be working better together to make sure they are having the greatest business impact," Riesterer says. "The ability of these two groups to align all their efforts and energies is the next big breakthrough for companies looking to be different and stand out in highly competitive markets."
About Corporate Visions Inc.
Corporate Visions' helps companies to stand out, working with them to create a greater separation between them and their competition. Our solutions better align sales and marketing professionals by helping them development a cohesive company story that will ignite a fire within their prospects to make a buying decision in their favor, resulting in more sales and more profit. We work with globally recognized companies like CareerBuilder, IBM, Fidelity, Volvo Trucks, CA and many more. Corporate Visions provides marketing and sales messaging consulting, training and products. For more information contact us at http://www.CorporateVisions.com or by calling 775-831-1322 or 800-360-SELL.
Corporate Visions is registered trademarks of Corporate Visions Inc.
###