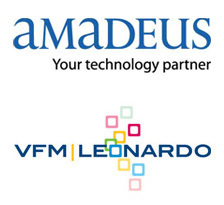 Madrid, Spain and Toronto, Canada (PRWEB) October 14, 2009
Amadeus, a global leader in technology and distribution solutions for the travel and tourism industry, has extended its relationship with VFM Leonardo, the leading distributor of visual hotel content. Amadeus has selected VFM Leonardo's VScape® Digital Asset Management System (VScape) to source and manage hotel images and rich media for the Amadeus GDS. The agreement will allow agents at more than 104,000 travel agencies using Amadeus worldwide to access an extensive range of photos, virtual tours and videos on hotels and resorts worldwide, helping them to better evaluate accommodations and determine those that best suit their end-travelers' needs.
In addition to adopting VScape for Amadeus hotel solutions for travel agencies, Amadeus will also utilize VScape to distribute visual content on behalf of Amadeus Multi-Channel Distribution (AMCD) hotel clients to the Amadeus GDS and thousands of additional channels in VFM Leonardo's VNetwork™, the largest online visual content distribution network for the global travel industry. By adopting VScape, Amadeus is now able to offer the thousands of hoteliers who participate in its GDS, a more streamlined way to make their visual content available on Amadeus and VNetwork™. VFM Leonardo customers will continue to be able to easily update their visual content in Amadeus directly through the VScape interface.
Paolo Boni, President & CEO, VFM Leonardo states "We are ecstatic to work with Amadeus. The fact that Amadeus, a key player in the industry, has extended their relationship with us by selecting VScape as the exclusive source and management system for hotel visual content shows how highly-regarded our technology is. Together, we will enable our mutual hotel partners to better merchandise their properties online and increase their bookings as a result."
Hugo Ehrnreich, Head of Hotel Distribution at Amadeus states "VFM Leonardo is well-established as the leader in hotel visual content management and distribution, which is why we have extended our relationship with them to continue to provide travel agents with access to useful hotel imagery in Amadeus and help the end-traveler choose the hotel experience that best suits their needs and expectations."
About Amadeus
Amadeus is the chosen technology partner for providers, sellers, and buyers of travel. The company provides distribution, IT and point-of-sale solutions to help its customers adapt, grow and succeed in the fast changing travel industry. Customer groups include travel providers (airlines, hotels, car rental companies, railway companies, ferry lines, cruise lines, insurance companies and tour operators), travel sellers (travel agencies) and travel buyers (corporations and travellers). Solutions are grouped in four solution categories - Distribution & Content, Sales & e-Commerce, Business Management and Services & Consulting.
Amadeus has central sites in Madrid (corporate headquarters & marketing), Nice (development) and Erding (Operations - data processing centre) and regional offices in Miami, Buenos Aires and Bangkok. At market level, Amadeus maintains customer operations through 71 local Amadeus Commercial Organisations covering 219 markets.
The company is majority owned by WAM Acquisition, whose shareholders are BC Partners, Cinven, Air France, Iberia and Lufthansa. Amadeus employs over 8,600 employees worldwide, representing 105 nationalities.
More information about Amadeus is available at: http://www.amadeus.com
About VFM Leonardo
VFM Leonardo is a technology leader in online visual content management and distribution for the hotel industry. VFM Leonardo's VScape® and VBrochure™ products leverage the distribution capabilities of the VNetwork™, the most universally accepted and largest online visual content distribution network for the global travel industry. VFM Leonardo offers the most effective digital asset management and online merchandising systems available today with over 1,000,000 visual images (photos, virtual tours and videos) for 90,000 hotels worldwide currently in distribution across the VNetwork. All four global distribution systems (GDSs) - Amadeus, Galileo, Sabre, Worldspan - as well as Pegasus source hotel visual content exclusively through VScape. Tens of thousands of travel-related channels including online travel agencies, travel research and supplier web sites, search portals; Travelocity, Orbitz, Priceline, Tripadvisor, Yahoo! Travel, Kayak, Google and more also source visual content through VScape, many exclusively. For more information about VFM Leonardo, visit http://www.vfmleonardo.com. Follow us on Twitter at http://www.twitter.com/VFMLeonardo.
Media Contact:
Julie Vieth, VFM Leonardo Inc.
Toll free: 1-877-593-6634
Phone: 416-263-5446
Fax: 416-593-7572
Email: press(of)vfmleonardo.com
###