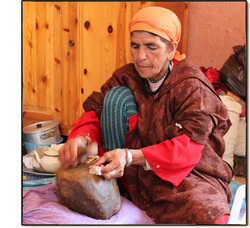 "[argan oil] has become one of the latest miracle ingredients in the beauty industry. High in vitamin E and essential fatty acids, it is believed to help all sorts of skin conditions: dry skin, acne, psoriasis, eczema, wrinkles." New York Times
Miami Beach, FL (PRWEB) July 14, 2010
Amal Oils has teamed up with women cooperatives in Morocco to bring 100% Organic Argan Oil to the US and entrepreneurial education to Morocco. Amal Oils will provide donate a portion of profits from the sales of 100% Organic Argan Oil back to the Moroccan Berber women in the cooperatives to improve their facilities and provide entrepreneurial education.
Argan oil is at the center of the spotlight in the cosmetic industry due to the recent discovery of the natural benefits of the oil. Sought after for its high linoleic acid, polyunsaturated fatty acids and vitamin E content, the New York Times has referred to this oil as a "miracle ingredient". Argan oil hydrates hair and nails, and helps skin conditions like dry skin, acne, psoriasis, eczema, and wrinkles. While argan oil has recently become one of the most revered cosmetic products in the U.S., Moroccan Berber women have been using this 100% Organic Argan Oil for medicinal, culinary and cosmetic purposes for centuries.
Amal Oils 100% Organic Argan Oil, sometimes written argon oil or argane oil, is produced from the nut of the endangered argan tree (argania spinosa). There is a that occurs between harvest of the raw fruit and the finished argan oil. Moroccan women who are members of cooperatives perform the most difficult task. The initial formation of the cooperatives was due to substantial efforts of Professor Zoubida Charrouf and financial backing of King Mohammed VI of Morocco and outside sources, such as the government of Monaco. The argan oil cooperatives are women owned and run businesses, which serve to provide fair trade working conditions, education, healthcare and an income to the women and their families. Now, many cooperatives are self-sustaining, but the women who run them lack formal education beyond an elementary level.
Amal Oils provides entrepreneurial education and dedicates a portion of profits to the women cooperatives. The donation allows the women buy necessary property and machinery to improve and expand their businesses.
Amal Oils 100% Organic Argan Oil is available in 2oz. recyclable UVA/UVB light-inhibiting bottles for $35, you can buy argan oil and support the Moroccan Berber women directly on the website. For additional information on Amal Oils 100% Organic Argan Oil contact Jalila Bouchareb.
About Amal Oils:
Amal Oils LLC is owned by Jalila Bouchareb, a young Moroccan woman entrepreneur and a recent graduate of the top-ranked college for the study of entrepreneurship, Babson College. Jalila developed her love for entrepreneurship and her desire to spread entrepreneurial education for the poverty stricken women of Morocco during a trip to Morocco in November 2009. Jalila plans to expand Amal Oils to incorporate other beauty products that are produced by women in Morocco, much like argan oil.
Contact:
Jalila Bouchareb, Owner
Amal Oils
305-741-AMAL(2625)
info (at) amaloils (dot) com
###