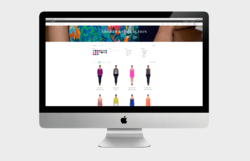 I want women to leave amandauprichard.com inspired.
New York, NY (PRWEB) April 22, 2013
Amanda Uprichard is excited to announce the re-launch of her website and online shop, http://www.amandauprichard.com. Her line caters to the woman who demands contemporary dress with a touch of sophistication. Her signature silk dresses have appeared on numerous TV shows and have been worn by celebrities such as The Kardashians, Jessica Alba, Giuliana Rancic and many more.
The site relaunch features a brand new blog that showcases behind the scenes looks from Amanda Uprichard, exclusive web sales, delicious recipes, and the funny, gripping adventures of Olivia, a single 20-something living in New York City, falling into one dating mishap after another. In these times where everyone is inundated with tweets, pins, facebook posts, the Olivia story should be a refreshing pause for many.
Uprichard hopes people will be drawn to her newly minted site for clothes, but also for the same reasons they approach magazines — to be entertained and to learn something new.
"I love blogs and sites with fun, interesting content," says Uprichard. "I want women to leave amandauprichard.com inspired."