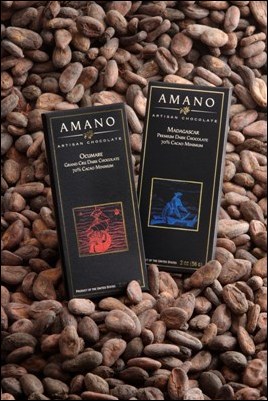 When you make the effort, it shows in the end product. We're dedicated and passionate about the chocolate we make.
Orem, UT (PRWEB) April 11, 2007
No longer limited to a handful of devoted chefs, Amano Artisan Chocolate is now available to a wider – though still limited – clientele. An increase in production capacity at Amano's tiny factory puts this world-class chocolate within reach of chocolate-lovers nationwide.
Once the closely guarded secret of local chefs who had to apply for the chance to purchase some, Amano Artisan Chocolate is now available to consumers via the company's web site, http://www.amanochocolate.com, and through select retailers.
Amano Artisan Chocolate is one of the few true chocolatiers in the United States that obtains superior-quality cocoa beans direct from the source and artfully transforms them into finished super-premium chocolate.
"There are no shortcuts to making exquisite chocolate," says Art Pollard, founder of Amano Artisan Chocolate. "When you make the effort, it shows in the end product. We're dedicated and passionate about the chocolate we make."
Amano is Italian for "by hand" and "they love" – two phrases which describe both Pollard's manufacturing technique and his dedication to creating the finest chocolate available, hand-crafting each element in the complex process of transforming cocoa beans into finished chocolate. The word Amano has a third meaning: "heavenly field" in Japanese, referring not only to the experience of eating it, but to the reverence and respect Pollard holds for this "food of the Gods," as his Venezuelan suppliers call their precious produce.
According to Pollard, Amano's unlikely Rocky Mountain location in a small town south of Salt Lake City is a critical quality factor that sets Amano Artisan Chocolate apart from other producers. The high altitude and dry weather aid the flavor development process, says Pollard. At 4,441 feet (1,454 meters) above sea level, Amano is one of the highest-altitude chocolate manufacturers in the world – higher than any Belgian producer and most Swiss chocolate makers.
Founded more as a labor of love than a commercial venture, Amano Artisan Chocolate took ten years to evolve from simple idea to finished product. Lamenting the poor quality of American chocolate, Art Pollard applied his curious nature and scientific background to the study of chocolate, ultimately identifying the key characteristics of superior chocolate production. In his garage he tinkered with traditional chocolate-making equipment, refining the manufacturing process until it produced the desired result.
Pollard then set out to source the world's finest cacao beans, meeting with farmers across the globe in order to source the perfect specimen. When necessary he works with them to perfect local growing, fermenting and drying techniques and in exchange for meeting Amano's exacting standards, local cacao farmers receive three to four times the going market price.
Having sourced the best beans and perfected his production technique, Pollard developed a devoted clientele of professional chefs, who looked to Amano for the flavor, texture and quality they could find nowhere else. Produced in such limited supply, Pollard accepted applications from prospective customers, filling their orders only if and when product became available.
With demand far outpacing supply, Art Pollard increased production capacity of his tiny manufacturing facility in Orem, and today is carefully expanding his customer list, inviting chefs and consumers who are passionate about chocolate to add their names.
Amano currently offers two distinctive products, both containing a minimum of 70% cacao solids:
Madagascar Premium Dark Chocolate
Madagascar has long been known for producing fine cocoa beans, primarily the Trinitario and Criollo varieties. The soil and climate produce beans that are particularly fruity in flavor, including hints of citrus and berry, with a gentle mouth feel and a prolonged finish on the palate. Available in 2-ounce bars (56g) at a suggested retail price of $6.00.
Ocumare Grand Cru Dark Chocolate
The Ocumare Valley of Venezuela is the source of much of the world's cacao tree stock, and the beans produced there are considered to be the finest in Venezuela. Amano's Ocumare bar has rich chocolate overtones balanced by fruity components that include hints of plums and other red fruit. Available in 2-ounce bars (56g) at a suggested retail price of $6.00.
Amano Chocolate is produced in limited quantities for distribution nationwide to discerning chefs and consumers through select retail shops and via the company's web site at http://www.amanochocolate.com, or by calling 801-655-1996.
Contact:
Art Pollard, Chocolatier
801.655.1996
# # #