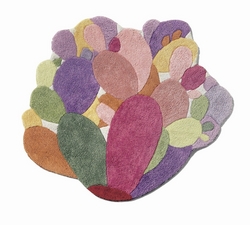 At Amara we are all very excited about the 5 new designs of towelling products we have added to our online collection.
London, UK (PRWEB) March 20, 2009
International luxury gift and designer home accessories website Amara has this week unveiled the new 2009 Missoni Home collection. As the largest online supplier of Missoni Home, Amara is again the first e-boutique to offer its clients the opportunity to own products from this highly respected Italian brand.
This year's collection is all about a versatile look for both an indoor and outdoor setting. Missoni themselves talk of cacti's sculptural forms, their silhouettes and the use of rare flower images. Stencil effects, tempera paintings and Indian-ink drawings reproduce elements of the plant world; details interweave and mould into the dynamic geometry of stripes and checks, the essence of the Missoni aesthetic.
As well as creating incredibly desirable products for the home, Missoni Home has been consistently producing a sought after towelling and bathrobe range; this year's collection has already received significant acclaim. "At Amara we are all very excited about the 5 new designs of towelling products we have added to our online collection."
One of the designs that has already caught the imagination of the discerning customer is Krono, a signature Missoni striped print. The Krono style is available as a bathrobe, towel set and bath Mat.
The Keith & Kira designs are the black & white styles for this year, both produced with the terry towelling finish. Keith has a typical Missoni zigzag whilst Kira has a strong floral print.
Missoni Home have also launched two new bath mat, Knut & Kyun. Knut is a soft deep shag pile bathroom rug available in 2 colours; white and black. This is usually the type of luxurious rug that you would find in the lounge or bedroom and therefore unique and an item you would not expect to find in the bathroom. Kyun is from the Cactus Garden story and also available in 2 colour palettes; a quirky and bold bath mat that would look just as good beside a bed or even being used as a child's rug. "At Amara we are sure the Kyun will take over from last season's bathroom hit, the Parma Bathmat!"
This season's bed linen collection includes Karl, a bold multi stripe design which incorporates a thick black band. The Karl range compliments the long standing and bestselling classic, Missoni Home Fleury. Another new design for 2009 is Katryn; this is a tropical floral bedding print available in two colour palettes.
For additional information on the new 2009 Missoni Home collection, or for any other products, services, pricing or delivery options featured on the Amara website contact Lucy Harrison or visit http://www.amara.co.uk
About Amara
Established by respected Interior Designer Sam Hood, Amara is a family run business based just outside London, England. Amara is an online boutique offering its clients some of the Worlds finest home accessory, luxury gifts and wedding gift suggestions.
###