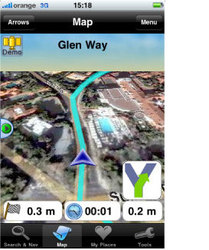 Encino, CA (PRWEB) December 9, 2009
LocatioNet Systems Ltd., the developer of the successful worldwide mobile navigation and search service 'amAze GPS' (http://www.amazegps.com) and TechnoCom Corporation™, its exclusive distribution partner in the United States, today announced that amAze GPS is now available for the iPhone and can be downloaded from the iTunes application store.
For the first time amAze GPS offers a worldwide service with the richest set of turn-by-turn voice guided navigation options at an affordable price.
With iTunes installed, go to: http://itunes.apple.com/app/amaze-gps-turn-by-turn-voice-guided/id331705067?mt=8
amAze GPS offers detailed navigation maps for many countries around the world. Users no longer need to worry about buying and updating additional expensive map packages or downloading separate applications. The amAze GPS service always provides immediate access to the most updated maps without any additional fees.
Multi Lingual support for 18 different languages is included for both displayed text and voice guidance. Additional languages are constantly being added.
Among many cool navigation and search features, amAze GPS users can also enjoy:

3D bird's eye view mode over detailed satellite imagery of over
200 major cities around the world.

Full nationwide topographic map coverage of the United States. Further
topographic coverage will soon be available in Europe.

Advanced search options from selected local yellow pages providers. Users can
search for points of interest (POI) or business names and navigate there with a click
of a button.
The amAze GPS worldwide service is available for only $3.99 per month*. Users can purchase additional licenses from within the application, including an annual license for only $33.99 per year.
Future releases of amAze GPS for the iPhone will offer all these extra useful features at no additional cost: real-time traffic in Western Europe and the United States, speed camera and red light camera alerts, 5-day weather forecast anywhere in the world and more.
Since its first launch in early 2007, the amAze GPS application was awarded 'Smartphone-biz.news Product of the Year 2008' and has become the solution of choice for many satisfied users around the world.
For more information please visit http://www.amazegps.com.
For the full media kit with more photos please visit: http://www.amazegps.com/?language=international&referrer=6&page=Mediakit
About LocatioNet
With a track record of over 18 years in the field of location-based services, LocatioNet is best positioned to re-define the navigation and local search market. The amAze GPS service is based on LocatioNet's Patented LBS middleware, best of its kind GIS engine and advanced client-server technology. The LocatioNet mobile solutions, including fully hosted white labeled off-board navigation services are successfully deployed by mobile carriers around the world.
About TechnoCom
TechnoCom Corporation is a leading provider of products and services that enable companies to efficiently utilize, optimize and manage location solutions. TechnoCom helps implement wireless location networks and services, reduce operating and capital costs, deliver superior levels of service, increase productivity and rapidly deploy new revenue-generating services. The company's location products include TechnoCom Location Gateway™, LX Server® and LocationAssurance Manager®, platforms that allow efficient implementation of wireless location solutions and empower customers with continuous, automated oversight into location system performance.
Founded in 1995 and privately held, TechnoCom has been selected by Deloitte as one of the 50 fastest-growing technology companies in Los Angeles for four consecutive years. TechnoCom's customers include AT&T, Cricket, Openwave, Sprint Nextel, TELUS, T-Mobile and Verizon Wireless. For more information about TechnoCom, please visit http://www.technocom-wireless.com.
Worldwide, contact:
Tzvia Pollack
LocatioNet Systems Ltd.
+972-9-8856451
In the United States, contact:
Amy Hawkins
TechnoCom Corporation
+1 760-438-5115 x176
Wireless data network coverage required and data usage fees from wireless carriers may apply.
LocationAssurance Manager and LX Server are registered trademarks and the TechnoCom logo, TechnoCom Location Gateway and TechnoCom Corporation are trademarks of TechnoCom Corporation. All other trademarks are the property of their respective owners.
###