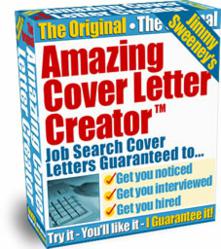 Anyone that is looking to improve their cover letters needs to see what James is doing with Amazing Cover Letters Creator.
Orlando, FL (PRWEB) December 14, 2012
Amazing Cover Letter Creator has finally been released after much anticipation and is helping job applicants everywhere land their respective dream jobs with a powerful, effective cover letter. Unlike other cover letter tools and consultants, Sweeny was bold enough to create a tool that combines his expertise with copywriting into one easy-to-use software tool. With the Amazing Cover Letter Creator, applicants don't have to spend hours researching templates and formats or spend money on expensive editing or consulting.
After a quick review of the Amazing Cover Letter Creator, it is clear this program the best way for applicants to create an effective letter that sets them apart from other job applicants and focuses on getting them an interview. Early users of the program have been stating that after using the tool to create their cover letter, they were selected to interview for extremely competitive positions and later landed their dream job at a higher salary than they ever expected.
"I must say, Jimmy Sweeny has created something very special for job seekers and career-minded people alike," said Yanik Silver, author of Instant Sales Letters. "What stands out to me the most is how focused the cover letter templates are on "getting the interview" using proven techniques. This is a user-friendly tool for people to quickly create powerful cover letters that get results."
Mary J., an Amazing Cover Letter Creator user from California, said, "I had been sending out resumes with cover letters for months with no response. Upon downloading the software, I wrote a cover letter that was very impressive using the creator. It was so impressive that I got called the next day for an interview and I got the job! I know it was because I was able to write such an "amazing" cover letter."
The Amazing Cover Letter Creator makes creating an impressive cover letter easy in just three steps. After downloading the software, users simply select the type of cover letter they want, choose the size of the applicant job pool, and then select a button for the amount of experience they have. The software automatically chooses the perfect template for the cover letter, which users then customize with powerfully written sentences. Users can create an amazing cover letter in just 3.5 minutes.
Those who wish to buy the program should visit the official site here. On the site, one can access the program plus take advantage of the generous offer being made by James Sweeny.
Those wanting a complete review of Amazing Cover Letter Creator can visit the website below.
James Sweeny has only made a limited number of these program licenses available at the discounted rate so that he can provide those who invest in the product the best level of service. Included with the program is the complete cover letter software and three additional free gifts. The bonus gifts include ebooks titled, "Top 3 Award-Winning Cover Letter Templates," "Amazing Job Interview Success," and "The 'Big 3' Salary Negotiation Secrets."
To get instant access to the Amazing Cover Letter Creator software, go to the Amazing Cover Letters website here.
In an economy that makes it difficult to find high-paying jobs, it's vital for applicants to stand out from the rest. Sweeny is so confident in the success of his cover letter tool that he offers a 100% risk-free guarantee for all customers to ensure that they are completely satisfied with their purchase.