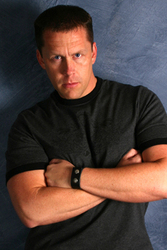 Why do it? Because I'm in the business of saving lives. It's what I do.
Dallas, TX (PRWEB) September 28, 2010
Officer Ron Lyons always knew that being a police officer could be a dangerous job, but it wasn't until a DWI arrest went bad that the reality of being overweight really hit home for him. One day in the late "90s, Lyons was attempting to arrest a suspect for Driving While Intoxicated. When the suspect resisted, a large fight ensued. Once Lyons finally had handcuffs on the suspect he sat up to call for assistance on his police radio. "I couldn't breathe and I felt like my heart was going to pound out of my chest" Lyons said. That was the very moment when everything changed, not only for Lyons, but the thousands of people he would help in the following years through his famous "20 Week Ultimate Body Transformation" program.
Like many people, Lyons struggled with his weight his entire life. He had tried nearly everything but nothing seemed to work. After his life-changing experience, Lyons lost 85 pounds in four short months by combining weight training, cardio conditioning and clean eating in a unique manner. Everyone noticed Lyons rapid transformation including the police administration of the department he worked for. Soon, Lyons was sent by his police department to become a Fitness Specialist through the Cooper Aerobic Center in Dallas, Texas.
Upon successful completion of the training program, Lyons began fine tuning his secrets and helping other police officers lose weight. Soon, Lyons popularity increased and there were even times that citizens would call into the police dispatch asking how to hire Lyons as a personal trainer. As Lyons continued his career in law enforcement, he developed a strong passion for fitness. In 2001, Lyons made the decision to leave law enforcement and go full time into fitness training.
Lyons realized that one of the biggest problems people face when trying to lose weight is the fact that results were usually average at best and they simply didn't happen soon enough. Lyons approach, however, delivered just the opposite, -fast and exceptional results . It wasn't long before Lyons was in high demand for his personal training and his schedule was full. In order to meet the strong demand for his program, Lyons began offering his program to small groups. The concept of a rapid "body transformation" may have been born on the street during an arrest, but the modern group version of his "20 Week Body Transformation" program was born out of sheer demand.
Today, Lyons operates two "Ultimate Body Transformation" studios and he has about 300 clients per day attending his program and has had literally thousands over the years. The results are fantastic with many people losing between 50 and 100 pounds during their 20 weeks with Lyons and his personal trainers. Most people say that it is Lyons unique personality that makes the program so successful. One member recently said "Ron pushes me harder than I've ever been pushed. I've cried and thrown up but I love him and he's helped me change my life!"
Lyons knows what it was like to be overweight, depressed and nearly helpless and now he is ready to reach out and help as many people as he can to save their own lives. However, in these challenging economic times, many of the people who need the most help simply can not afford it. Therefore, Lyons is announcing a new program he calls "UB100."
UB100 is a program where 5 people who are more than 100 pounds overweight and whom have limited means can take a full two rounds of his Ultimate Body Program for free. Lyons is also providing the associated supplies free to these lucky UB100 participants. The kit includes a heart rate monitor, fitness journal, gym bag and stop watch as well as a mat for exercise. In the end, each participant will receive over $3500.00 worth of free training and supplies. The program will be a year round effort whereby each of the 5 spaces will be filled by a new participant when a previous one graduates from the program.
There is an application process which includes writing an essay. The Ultimate Body staff and personal trainers will meet and select the most needy of applicants to participate in the UB100.
When asked why he is providing so much training to UB100 participants free of charge he stated "Why do it? Because I'm in the business of saving lives. It's what I do."
Read more and see many more photos of success stories at http://www.UltimateBodyStudios.com.
Media inquiries please contact
Dima Redelfs,
VP of Business Development,
Ron Lyons Ultimate Body Studios, Inc.
972-712-2120
dima(at)ultimate-body(dot)com
6699 W. Main St., Frisco, TX 75034
-or-
Ron Lyons
214-783-5440
ron(at)ultimate-body(dot)com
###