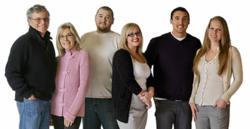 Another benefit of the new paddle board busienss' locating in the Swantown Marina is that customers will now have the ability to demo their boards right out their back door
Olympia, Wash. (PRWEB) November 21, 2012
In January of 2013, the parent company, Amazing Universe, which is responsible for two successful online retail businesses specializing in wine racks, wine cellars, surfboards and paddle boards, are moving their manufacturing facilities from South Union to downtown Olympia.
The waterfront space not only allows for easier customer and shipping access, but also will allow for the company to expand with its growing customer base and even allow for a more pedestrian friendly retail shop.
The owner of the brands Wine Rack Store, which has been in business since 1995, and Kitson Boards which opened earlier this year, is already feeling the strains of running two manufacturing companies in a single small space.
"We've always known that this time of the year we see a huge demand for custom orders for Wine Rack Store, what we didn't anticipate was the Kitson Boards would also feel the uptick in sales." said Amazing Universe President, Michael Kitson.
The company is simply outgrowing their current facilities and their move to the larger shop in Swantown will allow both brands to out put larger quantities to meet growing needs.
"With the larger space will also come the ability to fill larger orders in shorter periods of time," said Kitson, who also is looking to open an official retail store as well on the premises
"We get a few walk in customers from time to time, but we are not set up at our current location to host clients and properly showcase our products," said Kitson, "Our new location will allow ample room to do so."
Another benefit of the paddle board business' relocating in the Swantown Marina is that customers will now have the ability to demo their boards right out their back door.
Founded by Michael and Denise Kitson, Kitson Boards, LLC headquarters is located in Olympia, WA. Kitson Boards are all crafted out of the ultra durable and long lasting carbon fiber material. All production of surfboards, paddle boards and wakesurf boards, as well as the people behind the brand are based in North America. Kitson Boards prides itself on outstanding customer service and only the finest in recreational boarding and accessories. Free shipping is available throughout the continental USA.
Owned by Michael and Denise Kitson, Wine Rack Store has been selling quality pre-made and custom built wine racks, wine cellars and wine accessories since 1995. Wine Rack Store.com is A+ rated from the Better Business Bureau. All products are locally crafted in Olympia, WA and are shipped free anywhere in the contiguous United States.