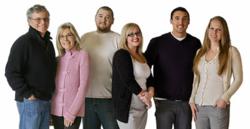 We have done a complete safety overhaul and are now a model for small company manufacturers everywhere
Olympia, Wash. (PRWEB) November 10, 2012
All Amazing Universe shop employees received respiratory protection training this week and not only passed the exam, but all received certifications of completion.
Amazing Universe, the parent company responsible for the USA Based surfboard and paddle board manufacturing brand Kitson Boards, and the custom wine rack and wine cellar company Wine Rack Store, is now on the cutting edge of safety enforcement for small businesses.
"We have done a complete safety overhaul and are now a model for small company manufacturers everywhere," said head Safety Coordinator, Travis Dodge.
Luke Jenkins, the Custom Productions Supervisor for Wine Rack Store, has worked in the manufacturing industry for many years and had never before had a respiratory fit test.
"Safety of our shop employees for both companies is our number one priory," said Amazing Universe President, Michael Kitson. "These mandatory safety certifications ensure that our employees are working in top notch environments and can rest assure that there safety needs are met when they come into work every day."
Owned by Michael and Denise Kitson, Wine Rack Store has been selling quality pre-made and custom built wine racks, wine cellars and wine accessories since 1995. WineRackStore.com is A+ rated from the Better Business Bureau. All products are locally crafted in Olympia, WA and are shipped free anywhere in the contiguous United States.
Founded by Michael and Denise Kitson, Kitson Boards, LLC headquarters is located in Olympia, WA. Kitson Boards are all crafted out of the ultra durable and long lasting carbon fiber material. All production of surfboards, paddle boards and wakesurf boards, as well as the people behind the brand are based in North America. KB prides itself on outstanding customer service and only the finest in recreational boarding and accessories. Free shipping is available throughout the continental USA.