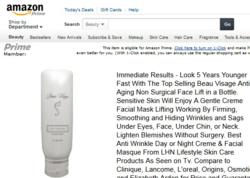 All I can say is that if an Amazon Affiliate wants to sell a hot product line to maximize income, LHN should be a first choice.
Tampa Bay, FL (PRWEB) May 08, 2012
Internet Searches for younger looks, smoother skin, or even face lift masks may not lead buyers to Liberty Health Network, LLC's (LHN) web sites. But that's OK with LHN, as long as the web site belongs to an Amazon Affiliate marketing the company's products.
"We spend a lot of time building web sites and using Search Engine Optimization (SEO) to drive traffic to our sites," said LHN Chief Operating Officer Russell Bly. "But increasingly, we are seeing our products show up on websites that we don't own. It's just another benefit of selling on Amazon.com. We are seeing an increasing number of our products listed on Amazon.com Affiliate web sites. The end result is that we are selling more products with better search engine placement. At times, Affiliate websites even out-rank our corporate web sites for competitive search terms. What's more, LHN Independent marketing Associates who are selling our products on Amazon also have Affiliate Marketers promoting their products. It's a total win-win!" Bly said.
Amazon Affiliates earn a commission from Amazon.com for products sold through their marketing efforts. Websites optimized for keywords such as "best anti aging face masks" on Yahoo for example may include not only links to LHN web sites, but links to Amazon Affiliate sites such as http://promo69887.themaxsavesale.com. When buyers purchase from the affiliates site referenced, LHN gets the sale and the affiliate gets the commission. As an interesting side note, LHN has never even had contact the Affiliate Marketer listed, and potentially thousands of others promoting LHN Products!
"The sales conversion rate on our Beau Visage and MAXeGEN products is crazy-good!" exclaimed LHN Chief Financial Officer Tracy Grevert. "Because our products convert [sell] well online, it makes sense not only for LHN to invest in online marketing, it makes equal sense for affiliate marketers to list LHN products for sale. All I can say is that if an Amazon Affiliate wants to sell a hot product line to maximize income, LHN should be a first choice," said Grevert.
Liberty Health Network attributes part of their record sales in April to Amazon Affiliates. As more web sites promote LHN's products, more sales are made. The company is looking forward to more Affiliate Marketers learning about Liberty products and including those products in their SEO campaigns.
About Liberty Health Network, LLC
Liberty Health Network is one of the nation's leading Direct and Internet Marketing companies with a state-of-the-art Global Distribution facility in Tampa Bay, Fl. For 12 Years, the Liberty Health Network name has been synonymous with high quality Mortechem-Free Nutritional Supplements, Anti Aging Skin Care, and Internet Web Applications. The statements made on this website have not been evaluated by the Food & Drug Administration. These products are not intended to diagnose, prevent, treat, or cure any disease.
Businesses or Individuals interested in distributing Liberty Products or requiring more information on this topic should contact Chief Operating Officer Russell Bly at (813) 774-8191 or e-mail at office(at)libertyhealthbiz(dot)com.