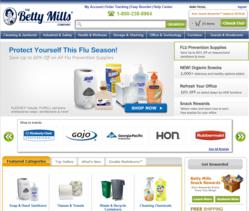 Our ability to flexibly manage our web infrastructure has increased by a magnitude of order
(PRWEB) September 28, 2012
The Betty Mills Company ® one of the nation's leading online B2B shopping destinations, and famous for its Snack Rewards™ loyalty program, today announced it had completed the final migration of its ecommerce web operations to Amazon's Elastic Compute Cloud Environment, otherwise known as EC2.
Betty Mills CEO, Victor Hanna said, "Following many months of intensive planning, at 1:08pm on 9/18/2012 we flipped the switch to re-route all of Betty Mills web traffic from our legacy data center to our new home in the cloud. Our ability to flexibly manage our web infrastructure has increased by a magnitude of order."
About Betty Mills
The Betty Mills Company® is a leading B2B e-commerce company and one of America's leading suppliers of cleaning, facility, MRO, break room, office snacks and health and wellness products. Offering over 100,000 brand-leading products shipped right to your door from over 55 U.S. warehouse locations.
With Betty Mills everyday low prices, Snack Rewards™ Customer Loyalty Program and Double Markdowns® Specials, Betty Mills offers a comfortable and easy online shopping experience for everyone who likes to buy smart and save big! Betty Mills Company's headquarter is located in San Mateo, CA. For more information, please visit BettyMills.com.
# # #