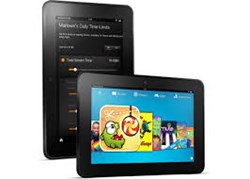 Our website delivers deals that are not always advertised by companies to help consumers who have been waiting to find a better price for specific products online
San Diego, California (PRWEB) November 29, 2013
Christmas sales online are one of the times of the year that consumers expect to find unheard of deals from retailers. The http://gotothegeeks.com website is now reporting the Black Friday Amazon Christmas sale that includes a $69 Kindle HD as one-time only sales special.
The reduced price of this tablet is one of the first decreases since 2012 by Amazon to the list price of the Kindle series. Distribution has been underway for more stores to begin carrying these Amazon created tablets. The online-only sale of $69 is a last-minute discount that has been updated on the GototheGeeks.com resource.
"Our website delivers deals that are not always advertised by companies to help consumers who have been waiting to find a better price for specific products online," a rep said from the GototheGeeks.com company.
The Amazon Kindle HD basic edition that is now marked down is expected by some sources to be the start of future reductions in price for the Kindle. The HDX series, Paperwhite and Fire have been reviewed for expected price drops this year, according to the GototheGeeks.com company.
"Kindle remains the most in-demand tablet in the U.S. next to Apple iPad and the new cheaper pricing is expected to create more interest in these portable PCs," the rep confirmed.
The listings on the Go to the Geeks website are expected to remain updated by company staff until the close of the holiday season this year. Daily updates from an automated research system are now made to the content published for the public.
About GototheGeeks.com
The GototheGeeks.com company supplies the earliest discounts for the Christmas shopping season each year. This company has hired a team of researchers, editors and writers who supply all content that consumers now access from the company homepage. The GototheGeeks.com company staff includes experts in the retail industry who are able to locate last-minute deals and first-time announcements for the public. The pricing data listed on the company website receives its updates hourly to serve consumers with a trusted source to find price drops and other incentives.