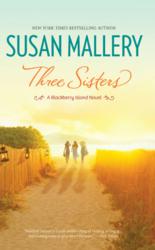 Sharing, giving, and taking: such is the nature of women. Three Sisters is a very enjoyable look at how women work little miracles nearly every day.
Seattle, WA (PRWEB) June 27, 2013
Halfway into 2013, Amazon Editors have selected Three Sisters by Susan Mallery as a Best Book of the Year (So Far). Three Sisters, a popular book club selection, is the story of three women who transition from neighbors to friends, as each faces a major turning point in her life and marriage. With more than 800 reviews on Amazon.com and an average of 4.5 stars, Three Sisters is a clear hit with readers at the popular online bookstore. Three Sisters is available wherever books are sold, in paperback, ebook, and audiobook.
Mallery is known primarily for writing romance, but she doesn't consider Three Sisters to be a romance novel. "It's more of a women's fiction novel," she explains. "There is a romantic subplot, but the main storyline is about the friendship between these women. I wanted to explore the idea that geography sometimes brings us together, but then the relationship can grow and change and become something that transcends proximity. Some friendships are fleeting, while others continue no matter where life takes you."
Three Sisters was selected earlier this year as a Top New Book of 2013 by Rhapsody Book Club. The author has issued an open invitation to book clubs to schedule a personal phone call from her to chat about Three Sisters, and the book also includes a reader's guide at the back to facilitate book club discussions.
In a five-star review, Kelly Ferjutz of San Francisco Book Review says, "When (the three heroines) combine their strengths, they achieve small miracles, with each of them somehow finding exactly what they most needed. Sharing, giving, and taking: such is the nature of women. Three Sisters is a very enjoyable look at how women work little miracles nearly every day."
It's the second of three books set on fictional Blackberry Island, off the coast of Seattle. Barefoot Season was released in 2012, and Evening Stars is slated for release in March 2014. A free excerpt of Three Sisters is available on Mallery's website, http://www.SusanMallery.com.
About Susan Mallery:
With more than 25 million books sold worldwide, New York Times bestselling author Susan Mallery is known for creating characters who feel as real as the folks next door, and for putting them into emotional, often funny situations readers recognize from their own lives. Susan's books have made Booklist's Top 10 Romances list in four out of five consecutive years. RT Book Reviews says, "When it comes to heartfelt contemporary romance, Mallery is in a class by herself." With her popular, ongoing Fool's Gold series, Susan has reached new heights on the bestsellers lists and has won the hearts of countless new fans.
Susan grew up in southern California, moved so many times that her friends stopped writing her address in pen, and now has settled in Seattle with her husband and the most delightfully spoiled little dog who ever lived. Visit Susan online at http://www.SusanMallery.com.